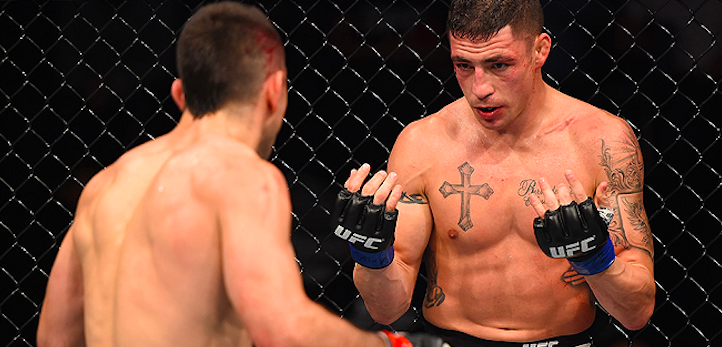 Diego Sanchez knows a thing or two about the fight game.  The one time King Of The Cage Champion, Ultimate Fighter Winner, and long time top 10 fighter Diego Sanchez just left a comment on Instagram, and when a guy with his type of credentials leaves a comment, people tend to pay attention.
Diego Sanchez brought up the Mexico City fight between Tony Ferguson and RDA as an example of Cardio.  The Nightmare Sanchez feels like that could be a difference if Ferguson continues to push the pace.  Diego is known for always having good cardio and is a veteran of intense fight paces.
Diego went on to talk about the height advantage of Ferguson over Khabib Nurmagomedov who is 6" shorter in height.  Sanchez explains that if Ferguson can use the reach behind his jab to set the pace and tempo that he will have a great advantage against Khabib at UFC 213.
Finally Diego mentions the grappling of Ferguson, a 10th planet black belt under Eddie Bravo and one of the last fighters to win a world championship in the UFC by submitting an opponent off of his back.  Do you think Ferguson will have the wrestling and grappling to beat Khabib?
The one and only Diego Sanchez throwing his support to Tony Ferguson. #UFC223 pic.twitter.com/UqBwAw6orU

— Justin Golightly (@SecretMovesMMA) March 28, 2018

If you are looking to start off the summer right, get started with my functional meal and diet plans.  Working together with the creators of the Better Human App we have developed an easy and convenient shopping list and meal plan that will help you reach your micro and macro intake needs.  To get your hands on the plans, click here!