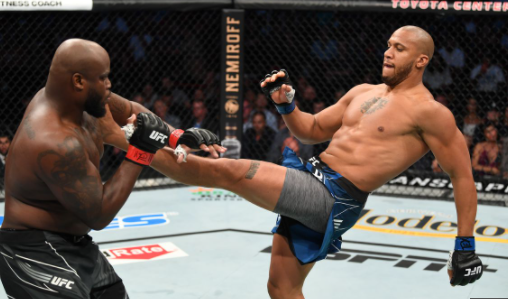 Last night August 7, the night was amazing for the winner Cyril Gane that had a great performance the fight was a great fight for Cyril Gane who took the win against Derrik James Lewis  on UFC 265. Cyril Jacky Gane took the wictory home when he took control of the 3rd round and won by TKO against Lewis.  They both did great on the fights, it was definitely a great fight and tough fight for both of them but they managed to get through it, however Cyril Gane was the luckiest one and maybe the one with most skill and techniche.
Cyril Gane is a great representation of a living and breathing proof of the MMA revolution. Cyril Jacky Gane is a French MMA fighter who is currently competing in the heavyweight division of the UFC,  where he is now the new Interim UFC Heavyweight Champion. He has been a  professional fighter since 2018, he also competed for TKO Major League MMA where he ended up being the Heavyweight Champion for a long time. Cyril was born in La Roche-surYon in France. He was born on April 12 and is 31 years old. He won the tough fight against Derrik Lewis with a great TKO. He's opponent Derrick James Lewis is an American professional MMA fighter ,  that currently fights  in the heavyweight division of the UFC, he has been a professional fighter since 2010, Derrik James Lewis has also fought for UFC's biggest competitors Bellator MMA and Legacy FC, where he was also the heavyweight champion. He was born in Houston, Texas in the U.S. He is 36 years old and was born in February 7, 1985. Most people are saying that Cyril Gane is going to be fighting the Heavyweight Champion in the Ultimate Fighting Championship event,  Francis Ngannou. Francis Zavier Ngannou is a Cameroonian MMA fighter. He currently fights  in the heavyweight division for the UFC, where he is the currently Heavyweight Champion in the whole dicvision. He is known for being one of the hardest recorded puncher in history of fighting. He was born in Paris, France. He is 34 years old and was born on September 5. 
Cris Cyborg is a world MMA champion, today fighting in Bellator. Cris Cyborg has 4 different belts including  a Bellator, UFC, Invicta and Strikeforce belt.  Cyborg was born in Curitba, Brazil and now lives in Huntington Beach, California. Cris started to get involved in sports when she was around 15, she started with Handball and one day a MMA coach from a well known gym in Brazil named Chute Boxe saw her training  and asked her to participate in one of the practices, she did and ended up falling in love with it. Cris Cyborg has a passion for animals and is the owner of Two dogs, a Bengal cat, a mini pig,  a Maine Coon and multiple Fish & Birds at Cyborg's zoo.