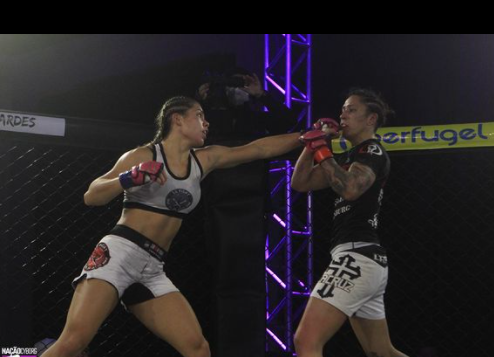 Our last event which happened on December 18th was a blast! Cris Cyborg's event NCF 'Nacao Cyborg Fights' took place in the South of Brazil. Nacão Cyborg Fights is the #1 mixed combat sporting event in the south of Brazil featuring Pro/Amateur MMA, Muay Thai, k1, boxing, BJJ, submission grappling, and more. The event is owned by Cris Cyborg and her brother Rafael Venancio Justino. 

At the last event we had some really great fights in the card and some great fighters too, some had their first fight in the event and others have been fighting in the event for a long time. In this event, we had the fight of Erick Viscondi vs. Alisson Murilo as the main event where Viscondi took the win home by decision with a pretty close fight against his opponent. In the co-main event, we had the fight of Wagner Lima vs. Hamyrez Oliveira and the winner was Lima who won by getting a beautiful Anaconda to choke on Oliveira.
One of the most remarkable events was the all-girls edition that took place in October due to October Pink where only women fought. This event was dedicated to all of the women with breast cancer because of October Pink.  The event took place in Brazil on October 21st and was for sure one of the most remarkable events that Cyborg Nation has ever had due to its meaning. Cris Cyborg always does multiple things that involve women for example lives on her social media and the PinkBelt Camps that happen a couple of times a year which is an only women camp.  

If you want to know more about the event and the fighter make sure to follow the event's socials like Instagram and their website too. Also, make sure to stay tuned on Cyborg's socials to know more about the events. If you are a fighter and you want to fight at NCF make sure to go to ncfights.com and put your information and everything needed for you to be part of the event and if you want to sponsor the event you can also put your information on the website and be part of the Cyborg Nation family and help us grow even more to give more athletes the opportunity that they all deserve.