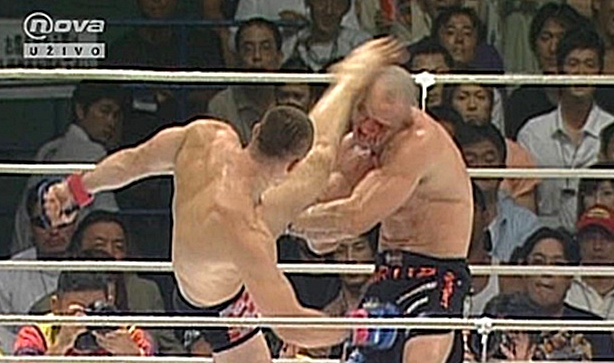 RIZIN FF is going down at the historic Saitama Super Arena in Saitama Japan this July.  RIZIN FF announced that PRIDE FC, and K1 legend Mirko CrossFit Cop will also be appearing on the fight card against an opponent to be announced later.  Cro Cop lost a fight to Alexey Oleynik in 2013 and since that time has won 8 consecutive fights including the RIZIN FF Open Weight Grand Prix in 2016 by defeating Muhammad Lawal, Kaido Hoovelson, and Amir Aliakbari during New Years weekend 2016.
Currently scheduled to fight Roy Nelson at Bellator 200, Cro Cop lost to Big Country Roy Nelson in 2011 at UFC 137 in the 3rd round via TKO.  The fight was his 3rd-in-a-row and the final of his UFC career. Cro Cop has notable MMA wins over Fujita, Sakuraba, Heath Herring, Igor Vovchanchyn, Aleksander Emelianenko, Josh Barnett, Kevin Randleman, Mark Coleman, Minowa, Hidehiko Yoshida, Hong Man Choi, Pat Berry, Satoshi Ishii, Gabriel Gonzaga,  and King Mo.
Now 43 years of Age, Cro Cop has focused on his MMA competition in recent years, however the former Kickboxing champion was a K-1 rules champion with 31 total kickboxing fights including 23 wins with 12 of those wins coming by way of KO.  in 2012 CrossFit Cop was the World Grand Prix champion.  in 2000 he was runner up in Fukuoka and in 1999 was K-1 World Grand Prix runner up.