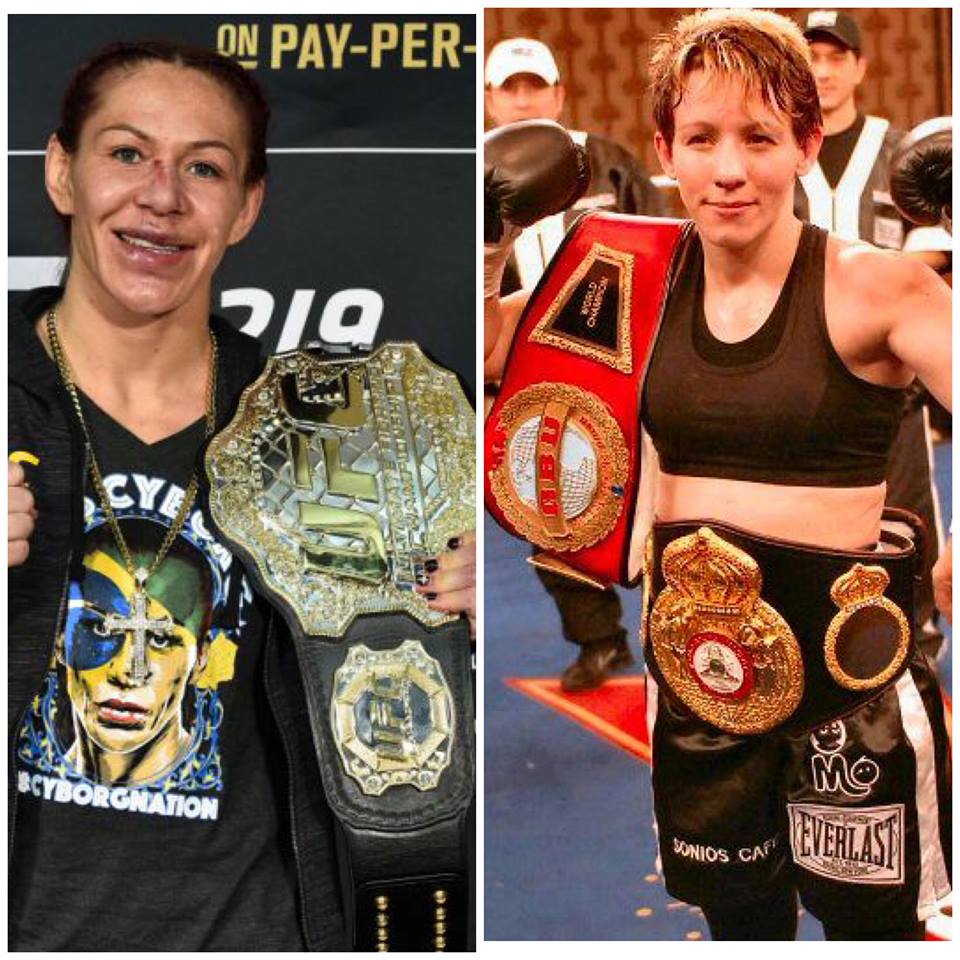 Last week when Cris Cyborg appeared on Ariel Helwani's The MMA Hour, she continued to remind fans that she wants to give them the female version of MayMac as Floyd Mayweather the #1 boxer in the world faced who many fans considered the #1 MMA fighter in the world Conor McGregor for a SUPERFIGHT in Boxing between both worlds.
While the UFC has promoted James Toney V Randy Couture, the Conor V Mayweather fight was the first time two mega stars from the two sports met in Boxing.  Cyborg is looking to give female fight fights, the equivalent with a showdown against A World Champion from female boxing once she has completed her contracted obligations to her current promoter the UFC.
Cyborg who went on to say that she has two remaining fight with the UFC on her current contract and is hoping to face Holly Holm in a Rematch, and Amanda Nunes as those two fights publicly stated that she intends to fight either Cecilia Braekhus or Layla McCarter.  Braekhus who originally called for a super fight against Cyborg first, has appeared to cool to the idea after her difficult HBO Boxing debut which saw Kali Reis drop her in the 8th round of their bout. Despite the disappointing performance Braekhus was able to retain the WBA,WBC,IBF,WBO and IBO world titles with her win.  The victory was Braekhus 24th decision in 33 fights.
Here's @criscyborg at tonight's fight… pic.twitter.com/tM6vYUvzyI

— Lance Pugmire (@latimespugmire) May 6, 2018
McCarter who has tried to secure a bout with Cecilia Braekhus for the past 4 years is currently the #1 contender at 147lbs and hasn't suffered a defeat since 2007 against Melissa Hernandez an opponent she later went on to defeat for a second time.  With a professional record of 41 wins, and only 13 defeats McCarter has also fought 5 draws, making her one of the most experienced women competing in professional boxing.
"I want to fight boxing," Cyborg told Ariel Helwani. "After the two fights, I want to go to fight boxing and I want the to fight the world champ Cecilia Brooks or it can be [top welterweight contender Layla] McCarter, and maybe after that I can come back for MMA. But I would like to fight in a boxing fight and I want to fight now because now it's viable."
Before any of those fights could happen, Cyborg will have to complete her UFC contract, unless the promotion is willing to let their female champion have a similar opportunity like Conor McGregor had at participating in another Combat Sport, but it appears the CEO of Mayweather Promotions Leonard Ellerbe agrees that a Cyborg/McCarter showdown would make for a great fight.
— Leonard Ellerbe (@LEllerbe) May 27, 2018