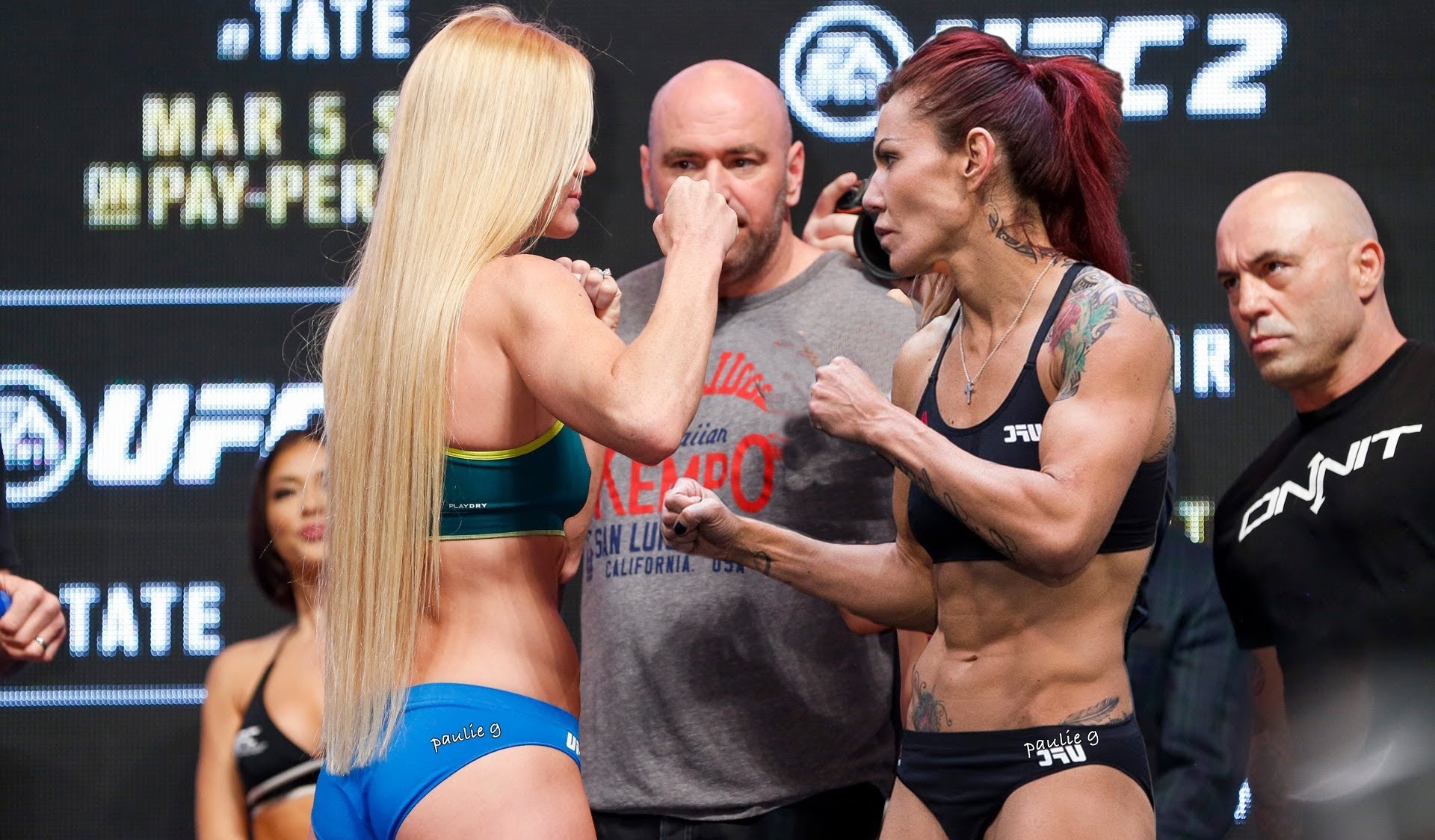 With plenty of speculation, fans are starting to get anxious for an announcement from the UFC making an expected bout between Cris Cyborg and Holly Holm official for UFC 219 in Las Vegas Dec. 30th.
While nothing has been officially announced, the reality is Holly Holm and Cyborg have limited options outside of each other.  Holly who is 1-3 in her last 4 fights recently picked up her first win in over 2 years with a lackluster performance against Bethe Correia in Singapore, and if she isn't willing to return to the 145lbs division where she lost the inagural title shot against Germaine De Randamie she will mostly likely be shelved for awhile.
https://t.co/qNPOHKHoWU pic.twitter.com/KtkUAzjhTq

— JacksonWinkMMA (@JacksonWinkMMA) September 17, 2017
While entertaining the idea of remaining in the Bantamweight division, Holly has already lost to Valentina Shevchenko, who recently announced her intentions of dropping to the newly formed 125lbs weight class.  Cat Zingano is sidelined with medical injury, and Raquel Pennington who lost a controversial split decision to Holly Holm in her UFC debut has just recently been cleared to start training and isn't expected to return to the octagon until 2018 sometime.
With current BW Champion Amanda Nunes scheduled for surgery to fix her sinus problems, if Holly Holm is looking to fight in 2017 the only remaining opponent is Cris Cyborg.
Cyborg who has been lobbying for the fight, recently hinted that news will be announced soon, which is leading many to speculate that former LFC matchmaker Mick Maynard is going to be able to get his ex promotional champion Holly Holm to agree to the fight.
While Australian Featherweight Megan Anderson is still an option for Cyborg, Cris has stated she would like to see Megan prove herself as a reliable opponent after her recent withdrawal without explanation for UFC 214.
One thing is obvious, Cyborg who has been in Thailand training at Phuket Top Team appears to be preparing for a southpaw opponent, as she has brought in 2x Rajadamnern Muay Thai Stadium Champion and Thai Army Boxing Champion Namphon PK Stereo as a training partner and coach ahead of an expected fight against the kick heavy left handed Holly Holm.
Fans on #CYBORGNATION who are wanting to see this fight should make their voices heard! Send you messages to Dana White, the UFC, and Holly Holm on Instagram, Twitter, and Facebook letting them know this is the main event you want for your New Years 2017 finale! One thing you can count on the UFC is to make biggest fights for the fans when the most fans want to see the fight happen! Sound off and let them know you want #CYBORGvHolm for #UFC219