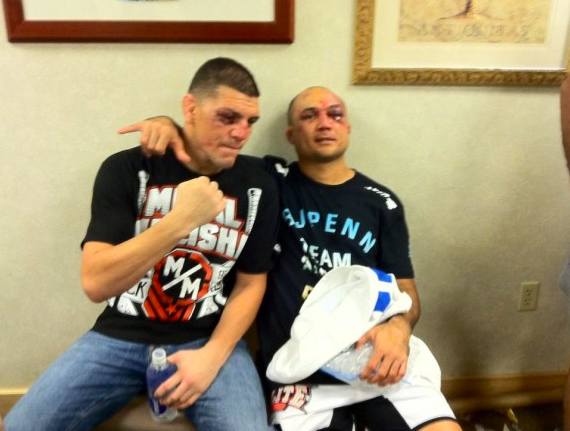 Nick Diaz is a bad man inside the cage, and according to actor and comedian Marlon Wayans he's just as dangerous outside of the cage.  An original member of the Northern California Scrap Pack, Nick Diaz just recently received the good news that he has been reinstated by USADA after 1 year suspension and is able to return to the UFC for competition.
Nick Diaz who is the older brother of UFC Superstar Nate, who is currently 1-1 in the UFC against Conor McGregor is a UFC superstar with fights against legends like BJ Penn, GSP, Anderson Silva, and more.  With news of his return to the cage, fans have already started hoping he will step in to face Tyron Woodley in August.
Diaz according to Marlon Wayans is the wrong dude to mess with, check out this story he gave to reporters from TMZ as he was sitting in his car moments after Nick Diaz passed by.  The Diaz brothers are some of the most popular fighters in the history of the UFC.
"I said, bruh, you f****g with the wrong dude. He said, f**k that bro, you don't know me. I said, hey, look at his ear.
Nick grabbed his ass… Bop, bop, bop! Three elbows. Bop, bop! Two knees. Fight was over. Blood everywhere. I just tapped the dude and said, I told yo' ass."