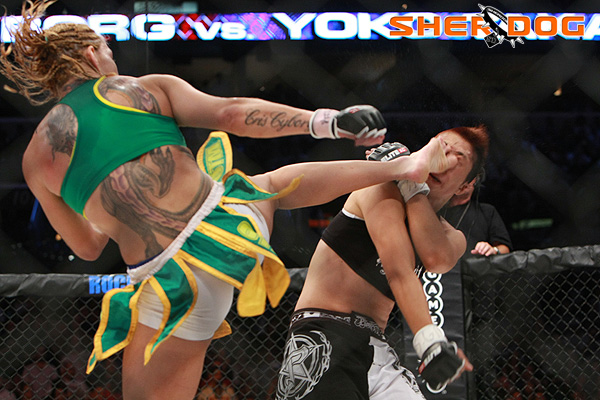 Cyborg has known a fight with Holly Holm was more than likely going to be the next fight matchmakers from the UFC were going to make following her victory over Tonya Evinger at UFC 214 last July in Southern California.  While Megan Anderson is still sidelined, and hopeful for the upcoming UFC Perth event, Cyborg had made her desires to fight Dec. 30th for the New Years End of the Year UFC event public.
Following the win last July, Cyborg started her training camp with a two month training trip to SouthEast Asia where she spent time training at one of the world's top Muay Thai institutes, Phuket Top Team.  While at Phuket Top Team, Cris Cyborg was able to train with several different trainers, however she spent a great deal of studying under the tutelage of 2x Rajadamnern Stadium Champion Namphon PK Stereo.
Prior to working at Phuket Top Team, Namphon had fought on the same Lion Fight event in Las Vegas, which is the premier Muay Thia organization in the USA.  Cris a veteran of Muay Thai fought Lion Fight Champion Jorina Baars in only her 4th Muay Thai fight.  A natural grappler holding a Brazilian Jiu Jitsu brown belt after capturing two world titles in the gi at purple belt, Cyborg is also an ADCC bronze medalist competing NOGI.
For 2 month Cyborg spent private training with Namphon focusing primarily on kick placement, timing, elbows entering and exiting the clench, thai takedown, and southpaw VS. orthodox foot movement.  After such a long training camp, I am excited for UFC 219 to arrive!
If you are looking to watch UFC 219 but are not sure what your plans are going to be for the New Year's weekend, take advantage of the FITE TV app on your SMART PHONE!!! You can now watch ALL THE FIGHTS YOU WANT straight to your phone.  These are legal downloads, so the stream is never slow and go and you always get to stream in real time speed!! If you are not sure you are going to be able to be home for my fight against Holly Holm, ORDER YOUR PPV to your Phone NOW and use the discount code: CYBORG to SAVE TODAY!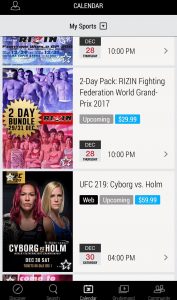 If you still have not downloaded the BETTER HUMAN APP You need to get this app for your phone!  Get the premium membership, and see how amazing the PHOTO FOOD RECOGNITION feature in the premium feature of this app is. BHA will change the way you track your micro and macro nutrients for LIFE!  Get the BHA here and use CODE: CYBORG!