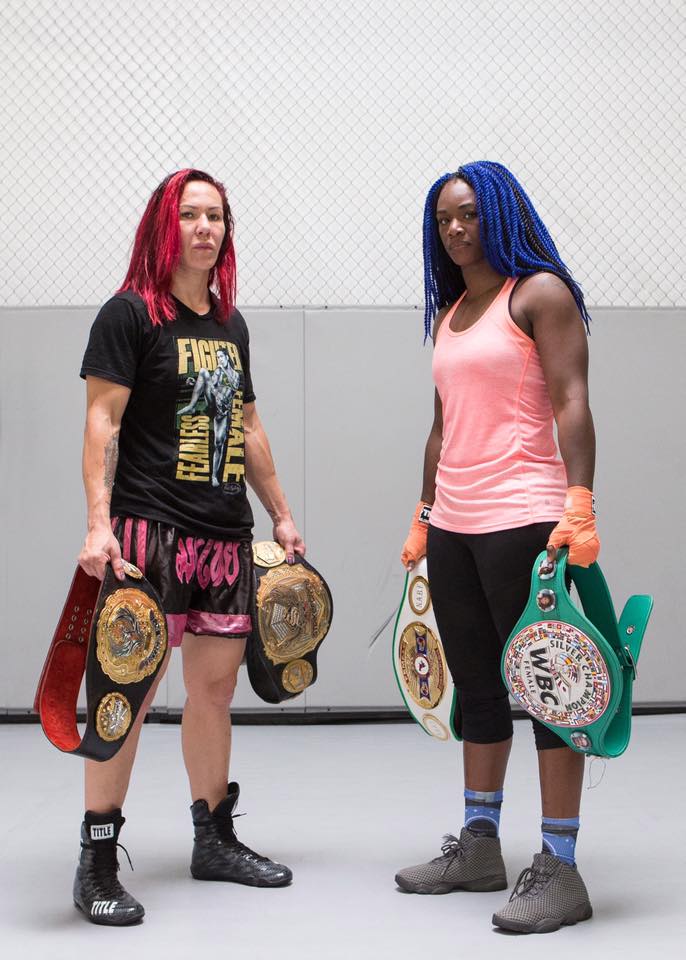 Tonight CYBORG NATION make sure you support team T -Rex by setting your DVR to SHOWTIME 7:30PST as Claressa Shields gets set to fight Nikki Adler as the main event of #SHOBOX for Showtime Boxing.  2x Olympic Gold Medalist Claressa Shields recently helped Cris Cyborg prepare for UFC 214 where she was able to capture the UFC 145lbs world title by defeating Tonya Evinger via 3rd round TKO.  With the victory Cris Cyborg has now won the STRIKEFORCE FC, INVICTA FC, and UFC World Championships at 145lbs, and is currently ranked #1 in the world Pound For Pound for female MMA by both ESPN and Fox Sports.
A week after Cris Cyborg captured the UFC Belt her training partner Claressa Shields a 2x Olympic Gold Medalist will face WBC Super Middleweight Champion Nikki Adler at the MGM Grande Detroit.  Shields of Flint Michigan is 3-0 and will be facing Adler in her 3rd defense of the WBC 168lbs World Title.  The vacant IBF Super MiddleWeight Championship will also be on the line tonight as Shields faces the 16-0 unbeaten Adler.
Take a few moments to enjoy the training both Cris Cyborg and Claressa Shields had the opportunity to do together, and then go set your DVR to record tonights fights on Showtime!