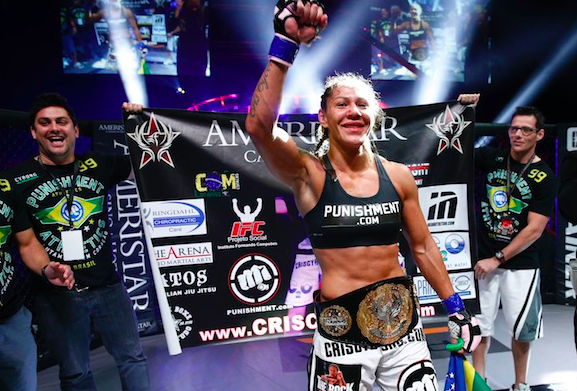 Last week 3x MMA Champion Cris Cyborg was honored by her hometown of Curitiba Brazil with a tribute in honor of International Women's Day.  The recognition came for all of the Humanitarian work Cyborg does both in her native country of Brazil and abroad as well as her ability to overcome prejudice because of her profession.
Curitiba has awarded @CrisCyborg a tribute in Honor of International Women's Day for the humanitarian work she does and the strength she represents for all women having faced several challenges, such as prejudice because of her profession. The award was collected by Zeila Plath pic.twitter.com/vtBTFoWEAC

— #CyborgNationAfrica video link in bio (@criscyborg) March 16, 2019
Cyborg who is currently in Africa as part of a Humanitarian Project with Justin Wren and his Fight For The Forgotten project was unable to receive the award in person, which was collected by her personal friend Zeila Plath had this to say,  "I hope that people see the work Cyborg Nation is doing and that it motivates them to get involved in their own communities and to make a difference."
Cyborg who was undefeated for 13 years and ranked as the #1 P4P female fighter in the sport of MMA suffered only the 2nd loss of her career last December when she suffered an upset defeat to UFC Bantamweight Champion Amanda Nunes.  While Cyborg has been vocal in her request for a rematch, it is yet to be seen if the UFC will grant her request.