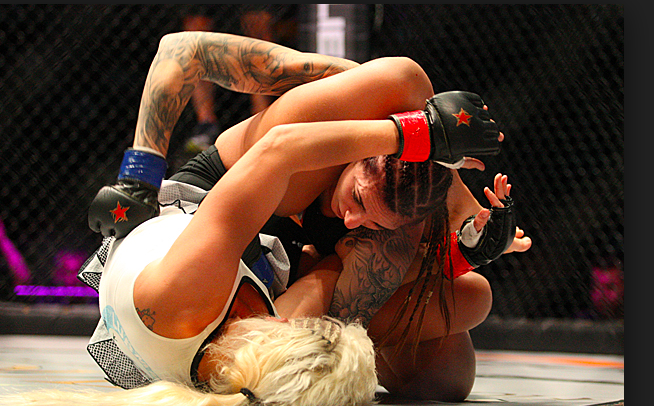 While Amanda Nunes seems to be cooling to the idea of fighting Cris Cyborg International Fight Week in Las Vegas this July one opponent seems to just be warming up.  Cindy Dandois who is undefeated when competing at 145lbs or heavier and 12-3 overall in MMA just won her 4th fight in a row and took to Twitter to call for a fight against UFC Champion Cris Cyborg.
Dandois who's last defeat came at 135lbs, a weight she said she struggled to make and struggled to physically preform at lost a close decision to Alexis Davis the one time title contender at Bantamweight who owns a TKO victory over Amanda Nunes.
Dandois has put together an impressive streak of victories including wins against Jorina Baars who owns a win over Cris Cyborg in Muay Thai competition, former World #1 ranked 155lbs Reina Miura, as well as Jessamyn Duke, Former Invicta Interim Champion Megan Anderson, Daria Ibragimova, Shelia Gaff, and former World Champion Marloes Coenen.
Cindy Dandois who is managed by former UFC Champion Miesha Tate, posted this call out on Twitter.
Another win… tko in round 2!!! @criscyborg @ufc 4 wins in a row! 12-3 now! Only one question! WHEN? pic.twitter.com/TUsNKGTWjP

— Cindy Dandois (@DandoisCindy) March 18, 2018

If you are looking to start off the summer right, get started with my functional meal and diet plans.  Working together with the creators of the Better Human App we have developed an easy and convenient shopping list and meal plan that will help you reach your micro and macro intake needs.  To get your hands on the plans, click here!