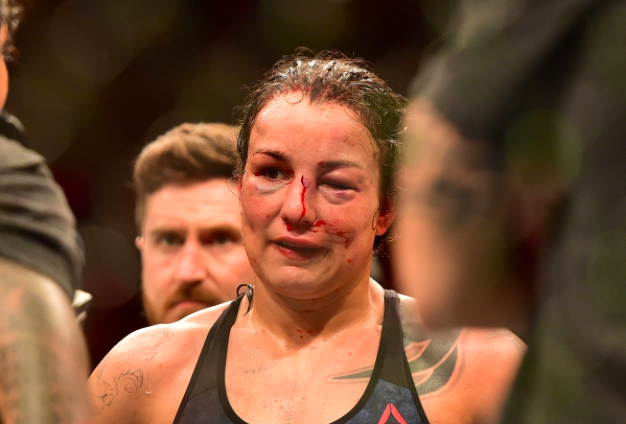 From the guy who broke the UFC partnership with ESPN back in April, TerezOwens is now reporting that according to sources UFC 224 is going to be the lowest selling pay-per-view that the company has produced in the last 10 years.  Amanda Nunes's last PPV performance at UFC 215 was largely speculated to have under preformed in regards to PPV purchases when she faced Valentina Shevchenko, and now the Brazilian Champion headlined an event in Rio which appears to have sold around 85,000 PPV buys.
While the UFC doesn't publicly release PPV buys, there are many indicators which can be used to forecast trends and projections. Some of those tracking markers include social media impressions for important tags related to the event, ratings for preliminary viewership, ticket availability, and overall internet traffic on the day of the event.
Competing against a Lomanchenko boxing match that saw the prize fighter average 1.4 million viewers on ESPN and a Bellator 199 which was watched by an average of 605,000 viewers on CMT and Paramount. The UFC 224 prelims aired on FX and only averaged 574,000 viewers. By comparison the PPV prelims for Cris Cyborg V Yana Kunitskaya who was making her promotional debut averaged 905,000 viewers on FS1 while competing in viewership against a televised bout of Heavyweight boxing Champion Deontay Wilder. The undercard for UFC 224 was aired on FX, instead of FS1 which is broadcasted to and available in more homes. The previous low for UFC 215 prelims was partly due to the broadcast partner Fox Sports decision to split the prelims between FS1 and FS2 in favor of the Walker Cup Golf Tournament.
#UFC224 prelims on FX averaged 574k viewers.

PPV prelim trends for 2018 from MMAPayout.COM

The other 2018 #UFC PPV prelims:

UFC 223 892k
UFC 222 905k
UFC 221 697k
UFC 220 905k

Last time UFC PPV prelims on FX: UFC 216 653k

— Jed I. Goodman (@jedigoodman) May 15, 2018
According to TerezOwens with the new TV deal the UFC is going to start putting events like UFC 224 on various platforms moving forward.  ESPN + is paying a reported 10 million per event for a guarantee of 150 million dollars for 15 events.  For a PPV to give that type of revenue solely on PPV commissions it would need to have about 285,000 in sales.
While UFC 224 might not have generated the revenue from PPV sales the promotion is use to, with the Nunes fight occurring in Rio, the event took place in the largest foreign market for international media rights that the UFC currently has, and was content for the Globo/Canal Combate/Sport TV broadcast deal, shown free in the country of Brazil. UFC 224 was also packaged as part of several other international media distribution partnerships in the Europe, MENA, and Asian regions.
Nunes who had spoke out about the lack of marketing she has received personally, also made comments stating that she was disappointed to see the UFC promoting their 225 event in Chicago ahead of her fight May 12th in Rio with the promotion.  During the UFC 224 post fight press conference UFC Executive David Shaw said that the company will continue to "build around" Nunes as the Brazilian and US marketing teams help continue to build her up in Newspapers and Magazines.
Despite the appearance of empty seats during the broadcast announced attendance was 10,696.