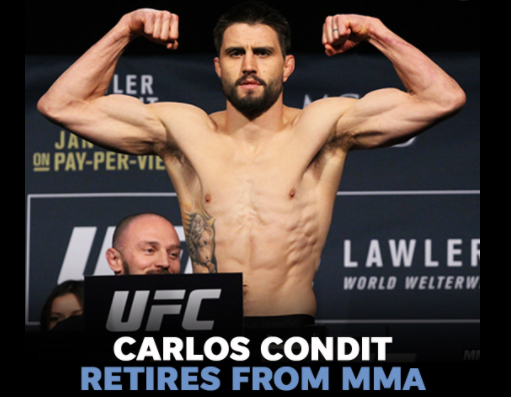 Carlos Condit is the former UFC interim welterweight champion in the UFC and is one of the most dangerous and violent fighters out there, is retiring and putting an end to his career in the sport of mixed martial arts. This Thursday Condit's manager, Malki Kawamade announced and confirmed that the athlete has decided to retire. Carlos Joseph Condit is an American now retired MMA fighter, who was formerly fighting in the Welterweight division on the UFC, where he is still the former Welterweight Champion of the World. "The Natural Born Killer" has a great record and has had many fights against huge names in the sport, like Matt Brown, Thiago Alves, Alex Oliveira, Demian Maia, and multiple more fighters. He has an amazing record of 32-14 and has been fighting since 2002. Condit has a total of 46 fights in his whole career, 19 of them on UFC. From his last three fights, he has won 2 of them against Court McGee and Matt Brown. His third one was lost by a unanimous decision against Max Griffin on the UFC 264 where McGregor faced Dustin Pourier. 
In an interview with Chael Sonnen in 2016, his manager Kawa was open to talking about how Condit wanted to retire due to brain damage and that he was going to see how he felt. The manager said "Right now he's just taking his time and thinking about it. He's going to review it, see how he feels and see's whether or not he wakes up and stuff is going on. He'll go get his head checked and see if his brain is perfectly fine, normal, and then maybe he may say I want one more fight." And apparently, he decided to keep fighting for five more years until this week when his retirement was announced to the media.
Carlos Condit was also the former UFC Interim champion, he has notable wins against Nick, Rory MacDonald, Dan Hardy, Frank Trigg, and others. His journey in the fighting world was really long, I'm sure that we all enjoyed most of his performances but now this fighter decided that his career has come to an end!