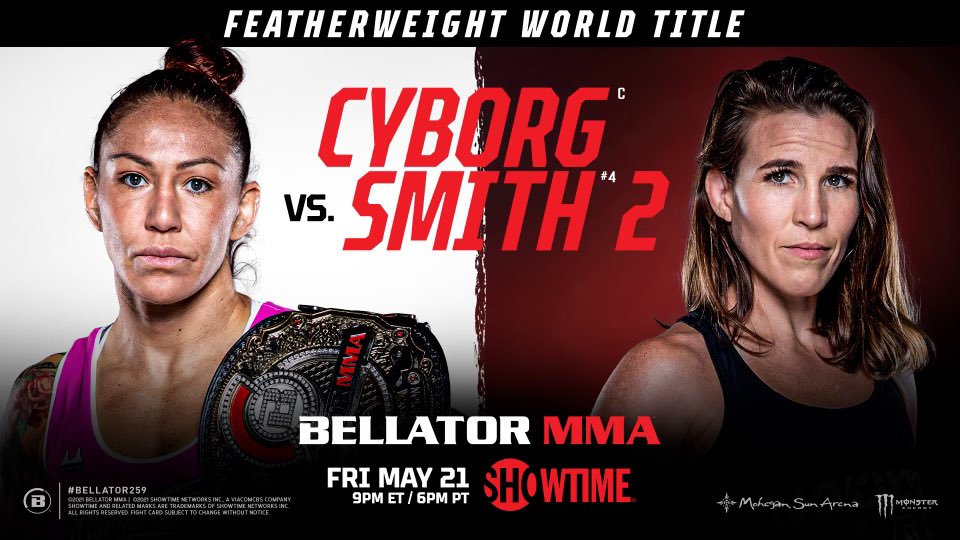 After going 2-0 in 2020 and winning the CBS Mixed Martial Arts fighter of the year award, Cris Cyborg is set to make her Bellator MMA return with a May 21st main event against #4 ranked Featherweight Leslie Smith at Bellator 259.  This bout will be a rematch from UFC 198 where Cris Cyborg was victorious in front of a Brazilian Crowd of over 50,000 live fans.  Since that fight Leslie Smith has only lost 1 fight, a close split decision to #2 ranked Featherweight Arlene Blencowe.  With wins over UFC Stars like Amanda Lemos and Irene Aldana , Leslie Smith left the promotion ranked in the top 10 before joining the Bellator MMA Featherweight division.
Defeating Sinead Kavanagh by decision, the only loss since Leslie Smith's fight against Cris Cyborg in 2016 has come to #2 Bellator MMA Featherweight Arlene Blencowe via decision, before she rebounded from that performance with a 2020 victory over knockout artist Amanda Bell at Bellator 245 improving her record to 4-1 since her defeat in Curitiba Brazil in 2016.  Now a Brazilian Jiu Jitsu Black Belt, Cris Cyborg has gone 7-1 once her 1st round victory over Leslie Smith with her only defeat being a 50 second firefight with fellow Brazilian Amanda Nunes in 2018, since that time Cyborg has gone 3-0 winning the Bellator MMA Featherweight Championship to become the sport of Mixed Martial Arts only Grand Slam Champion having won world championships with Strikeforce, Invicta, UFC, and Bellator MMA.
Bellator 259 will air on IBBCPlayer in the UK, ESPN Brazil, Showtime in the USA, and is going to be broadcasted live in over 130 different countries around the globe. If you are a company looking to advertise your product or brand, open enrollment for Cris Cyborg's sponsorship has officially started, new companies looking to apply can start here. As the premier female mixed martial artist the past 16 years, Cris Cyborg will look to continue her legacy with another victory at Bellator 259 live Friday May 21st on Showtime in the USA.