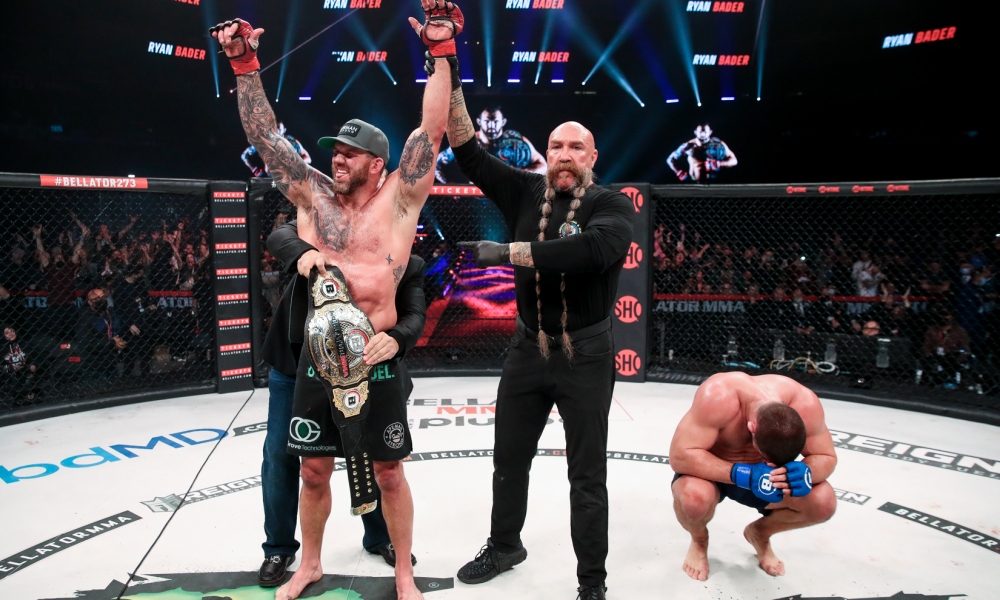 This last Bellator event happened this weekend on January 29th and it was the first Bellator event of the year, with the fight of Ryan "Darth" Bader vs. Valentin Moldavsky.  This fight has been awaited for a really long time since Ryan Bader has been the champion for so long and Moldavsky is such a great fighter!  Ryan DuWayne Bader is an American MMA fighter who is currently signed and fighting at Bellator MMA where he is the Bellator Heavyweight Champion and the former Bellator Light Heavyweight Champion where he is one of the first fighters to hold two belts in two different divisions simultaneously in Bellator history. He has a record of 29-7  after this victory and has fought huge names like Tito Ortiz, Fedor Emelianenko, Lyoto Machida, Linton Vassel, Jon Jones, and the list goes on.  And this beast was able to keep his belt after facing Moldavsky on Friday. 
Valentin Igorevich Moldavsky is a Ukrainian and Russian combat sambo and MMA fighter. He is also currently signed to Bellator MMA where he is the current interim Bellator Heavyweight World Champion. He has a record of 11-2 after losing this weekend for the reigning champion of the Light Heavyweight Division Ryan Bader and has also fought many great fighters like Carl Seumanutafa, Ernest James, Linton Vassel, Javy Ayala, Roy Nelson, and Timothy Johnson. 

And on the same day, there's another well-expected fight that happened. Fighting in the Bantam division Caldwell fought Barzola. Darrion Caldwell is an American MMA fighter and is also known in MMA for graduating college because of his wrestling, he is currently fighting in the bantamweight division of Bellator MMA, where he is the former Bellator Bantamweight World Champion.  He is a professional fighter since 2012, he has also competed for Legacy FC. And his opponent Enrique Barzola was able to beat him in this fight by TKO with only three minutes into the third round.  His opponent, Enrique Johnatan Barzola Acosta is a Peruvian MMA fighter who competes in the Bantamweight division of Bellator MMA. He was the lightweight winner on The Ultimate Fighter: Latin America 2. And he has also fought in the UFC before.