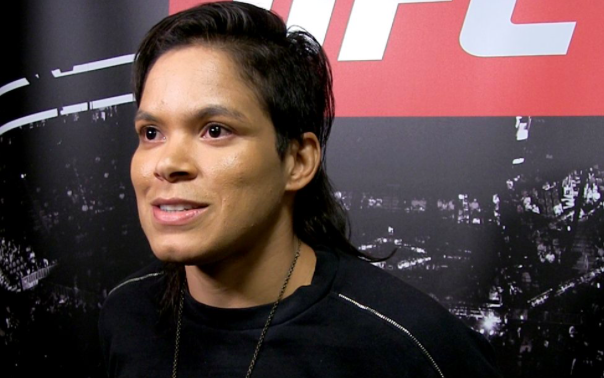 UFC 224 is heading to Rio Brazil for UFC 224 in less than 2 weeks, and it appears at least one fighter on the card isn't happy that UFC Chicago appears to be getting a bulk of the marketing and lead up despite occurring almost a month after UFC 224.
Amanda Nunes who is headlining against 9-5 Raquel Pennington took to Social Media to reply to the UFC's team hyping up the UFC 225 event in Chicago which is a month and a half away, over using the opportunity to promote the next event, UFC Rio
"RT if you're HYPED for #UFC225 We are JUST under 6 weeks away."
RT if you're HYPED for #UFC225

We are JUST under 6️⃣ weeks away. pic.twitter.com/kLwLDt4SzY

— UFC (@ufc) April 29, 2018
Taking to the social media platform, Nunes has now fired back with a response. Check it out below:
"We are less than 2 week for 224."
We are less than 2 week for 224 😁✌🏼

— Amanda Nunes (@Amanda_Leoa) April 29, 2018
Nunes will have a bit of help with the UFC 224 fight card also featuring fan favorites Vitor Belfort, Lyoto Machida, Jacare Souza, Kevin Gastelum, and Mackenzie Dern in regards to PPV sales, however the fact remains she has struggled in the box office for the UFC. Despite wins against Miesha Tate and Ronda Rousey, Amanda Nunes star power hasn't resinated with the UFC fans. This could be in part, due to the fact, that the majority of the leadup in marketing for UFC 200 and UFC 207 was for her opponents Miesha Tate and Ronda Rousey and not specifically for Nunes.
Nunes last UFC fight against Valentina Shevchenko is rumored to have sold under 100,000buys at UFC 215, and it appears that the early projections for UFC 224 in Rio in regards to North American PPV buys are not trending much better.
Nunes who chose to accept a fight with Pennington instead of securing the UFC 226 fight date with Cris Cyborg July 7th in Las Vegas will now have to beat Raquel Pennington before being able to start negotiations on any possible Superfight against Cris Cyborg, who has stated she is interested in fighting the next #1 contender at 145lbs–which could be the winner of Holly Holm Vs Megan Anderson at UFC 225–the event 6 weeks out.