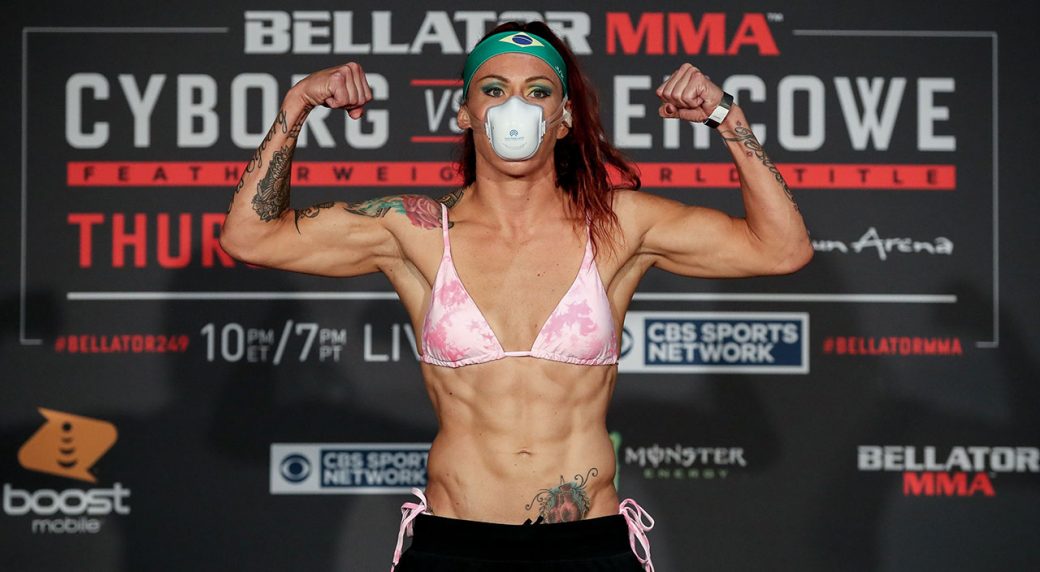 Cris Cyborg returned from her recent travels in Brazil after going 2-0 in 2020 picking up the Bellator MMA Featherweight Championship in January handing Champion Julia Budd her first defeat in over 8 years of competition to complete her quest of becoming MMA's only Grand Slam Champion, winning every major Featherweight World Championship in the sport of Mixed Martial Arts.  Returning in October to defend her Bellator MMA Championship and the Grand Slam Ranking, Cyborg faced a 2x World Boxing Champion and #1 featherweight from Australia Arlene Blencowe successfully defeating her in the 2nd round earning her first career submission victory a performance that saw professor Cobrinha Ruben Charles promote the MMA Grand Slam Champion to the rank of Brazilian Jiu Jitsu Black Belt.
Cyborg speaking to James Lynch about the addition of Juliana Velasquez to the Champions Row at female Flyweight Bellator MMA now has Patricio Pitbull Freire as Bellator MMA champion at FLW, MW, in addition to Douglas Lima at Welterweight and Cris Cyborg as the female featherweight champion, giving Brazil 5 World Champions in the promotion.  With fights shown live on ESPN in Brazil, and a new partnership with CBS Sports Network, Cris Cyborg says that Bellator MMA is the best platform for any mixed martial artist from Brazil looking to showcase their skills.
The UFC once filled with Brazilian Stars has struggled to rebuild stars after the departures of legends like Vitor Belfort, Anderson Silva, Wanderlia Silva, Fabricio Werdum, and Cris Cyborg. With fighters like Junior Dos Santos, Jacare, and Jose Aldo appearing to be coming towards the end of their UFC careers the newest generation of stars are finding themselves struggling for the opportunities to showcase their skills. Similar to Demian Miai and Jacare the newest generation of athletes like Charles Oliveira have had a difficult time earning their shot at the World Championship.
Will we see more top Brazilian prospects chose to sign with Bellator MMA because of the example they are seeing from how the promotion is currently promotion its Brazilian athletes?  Only time will tell, but it is proving to give some great content to ESPN Brazil the official broadcast partner of Bellator MMA.