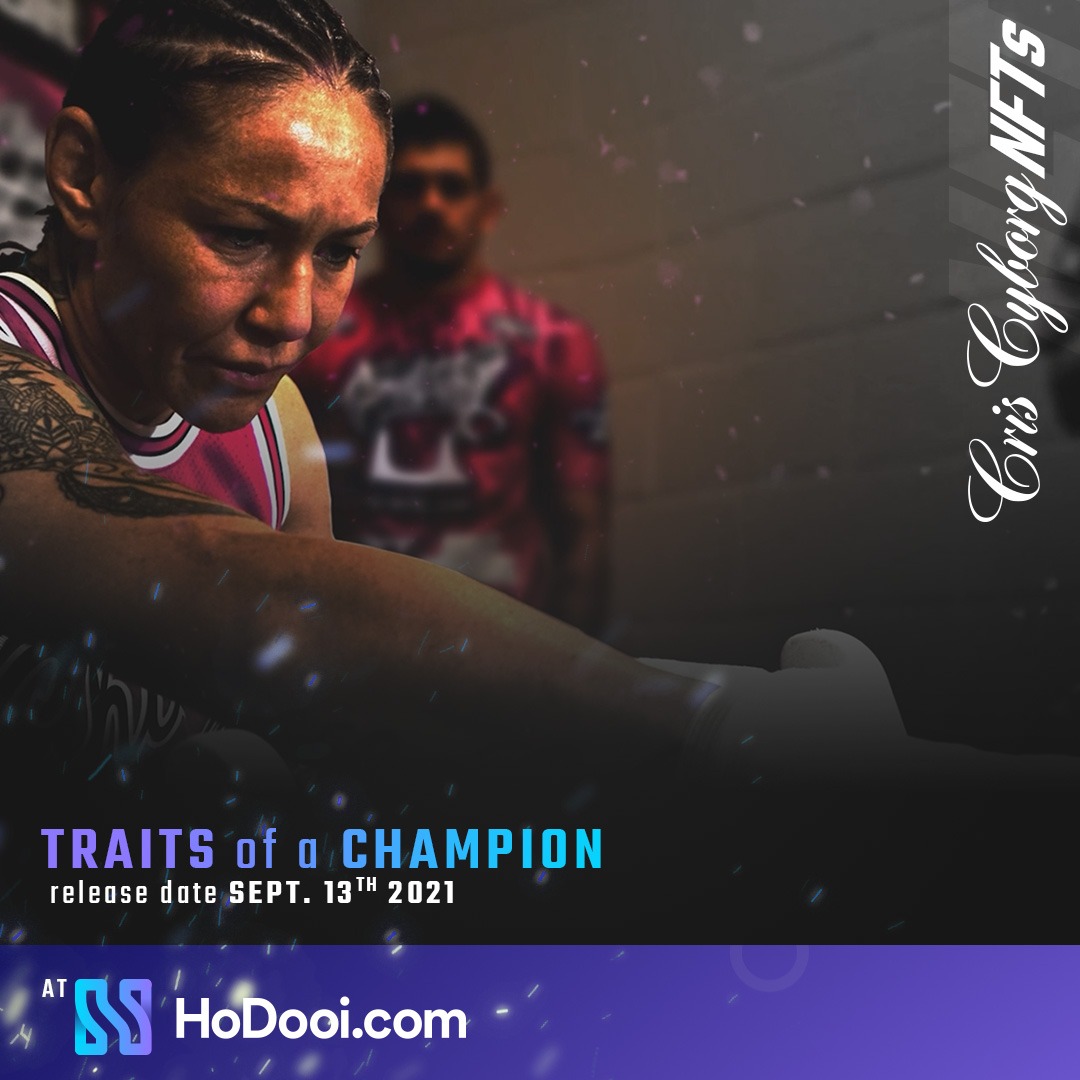 Monday Sept 13th at 7am PST, Cris Cyborg will be releasing her 2nd NFT collection exclusively on Hodooi.Com, offering her fans and the NFT community the opportunity to access her NFT collection.  The 'Traits of a Champion' NFT collection is a unique collection of digitized art representing MMA's only Grand Slam Champion Cris Cyborg.  The collection includes auctions and Buy it Now options for users registered on Hodooi.  Activation with several of the NFTs includes:
A Private Zoom Video Meet and Greet call with Cris Cyborg
One pair of signed MMA Gloves officially used by Cris Cyborg during training camp for her next fight, with certificate of authenticity from Team Cyborg
Exclusive Cris Cyborg Team Shirt for next Bellator MMA Fight (Yet to be announced)
The NFTs will go on sale TOMORROW starting at 7am PST, on her verified GOLD Hodooi Profile.
'Trait of Champions' NFT overview
A breakdown of the Cris Cyborg 'Trait of Champions NFT collection.
So, what is an NFT?
"Non-fungible" in simple terms means that it is unique and cannot be replaced with something else. For example, bitcoin and other cryptocurrencies are fungible — you can trade one for another, and you'll have exactly the same thing. A one-of-a-kind Cris Cyborg NFT, however, is non-fungible. If you traded it for a different collectible, you would have something completely different.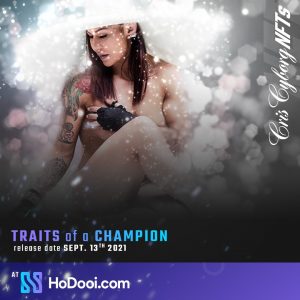 Are they Collectible or Valuable?
NFTs have become incredibly popular since 2017, because they hold value, which allows them to be bought and sold like other types of art–and, like with physical art, the value is largely set by the market and by demand.  Cyborg made history in the Cyrpto and Blockchain community in March 17th of 2020 when she became the first professional athlete to offer their fans an NFT collectible on the NiftyGateway originally offering a series 2 NFTs Cyborg Ready priced at $10 and limited to 250 editions, with the most recent resold for $1,999, and the Cyborg Victorious which was originally priced at $500 and limited to only 10 in the edition most recently resold for $10,000.
As with all collectibles, it is only speculative of price, however NFTs ensure their uniqueness and ownership can be verified, which makes them easily traceable on secondary markets.
What is a blockchain?
A blockchain is a type of database. You can delete, amend or replace a cell or table in a spreadsheet but you can't alter the information on a blockchain. You can instead put additional information on another block, and add them together, forming a chain. New information leads to new blocks and a larger chain.
Because information is added rather than altered, it forms an irreversible history of data, meaning ownership is something that can't be changed in the database, only tracked. HoDooi.com is currently operating on the Binance Smart Chain but we will be integrating multiple blockchains over time.
How do I buy NFTs on HoDooi.com?
 You will need a Crypto Wallet holding BNB or USDT (you can not purchase BNB or USDT on Hodooi, or use a credit card to purchase the NFT, you will need a Crypto wallet similar to; EDGE WALLET to purchase Crypto) Users can then purchase NFTs in two different way:
Buy Now – you can purchase NFTs immediately with the Buy Now function.
Auction – You can bid on items as you would on eBay or other internet auctions sites/apps during the auction process until the end of the auction.
The Cris Cyborg NFTs are released in two parts, with users having the option to bid on the auction NFTs or to buy them immediatly. You can only purchase the NFTs from 'Trait of Champion' on HoDooi.com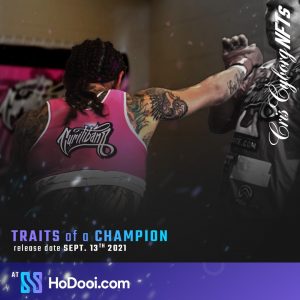 How will bidding on HoDooi.com work?
You can bid on the two one-of-one NFTs from the Cris Cyborg NFT collecton, as you would with any other platform such as eBay, we currently allow payments in BNB or USDT (BEP-20)
How do I deposit to HoDooi.com?
To deposit cryptocurrency into HoDooi.com, simply open up "My Wallet", click "Deposit" on the required cryptocurrency and then "Copy" the BEP-20 address, use this in your cryptocurrency wallet (don't have a Crypto Wallet?! Download Edge Wallet to get your NFT) and send your assets directly to your HoDooi.com account. You will need BNB in your HoDooi.com account to complete transaction fees
Still need help!? You can access all the Hodooi.com Frequently Asked Questions (FAQs) on their FAQ page, Link Here.