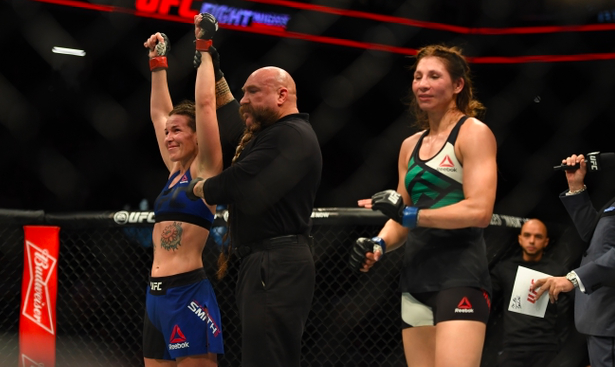 Leslie Smith, the president of Project Spearhead made it official today as becoming the first UFC fighter to file charges against the UFC with the United National Labor Relations Board, NLRB.  According to documents obtained by MMAFighting.Com Labor Attorney Lucas Middlebrook alleges that the reasoning behind the UFC's decision not to renew Leslie Smith's contract were based on "Animus it held toward her engagement in protected activity."
Smith has been the most vocal leader of the Project Spearhead efforts which is asking UFC Fighter to sign authorization cards that would allow for a motion to determine if fighters within the UFC are employees or independent contractors. Leslie Smith is under the belief that all fighters are currently employees of the UFC and not contractors as they are being currently classified as.
Leslie Smith who was Top 10 ranked Bantamweight in the world and after a Superfight with Cris Cyborg, had won 2 consecutive fights, including impressive performances against Mexican standout Irene Aldana and former Jungle Fight champion Amanda Lemos of Brazil.  Smith who was paid her full fight sum following her opponent missing weight at a recent UFC FN event, was denied her request at extending her fight contract past its current agreement, went on to tell Ariel Helwani,"It's my opinion that what the UFC did was illegal. Because they have created a situation where it encourages a climate of fear where the other people in the UFC on the roster are going to be fearful of publicly organizing and standing up for their rights…By creating a climate of fear, that violates federal law. That's the whole point of the National Labor Relations Board and the laws that are in there."
Of note, California the state that Leslie Smith resides in just had a recent ruling in the State Supreme Court which will make it much more difficult for employers who are operating in that state and treating employees as independent contractors–by doing this employees don't have to give employees the same rights–Read more about that here.
Leslie Smith has been able to raise nearly 4,000$ from supporters looking to help her with the legal fees associated with the proceedings.  Fans wishing to donate to the GO FUND ME can find it HERE.  Fighters interested in reading more about Leslie's efforts should visit PROJECT SPEARHEAD.