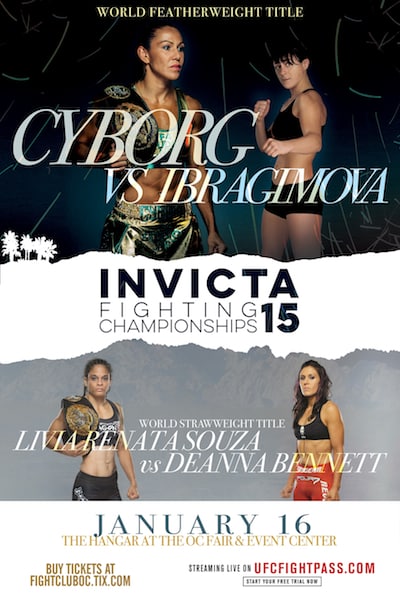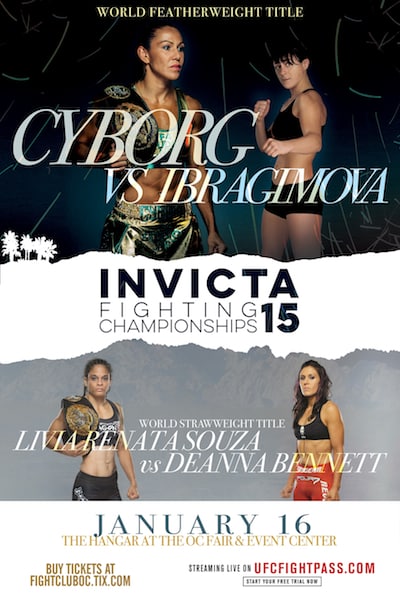 It is finally here, FIGHT WEEK!
My training camp has officially ended, and I am now starting to focus on my weight cut to 145lbs.  Despite having worked with Diet coach and Nutritionist George Lockhartt on my previous 2 fights, this will be the first time as a ZUFFA Contracted fighter I will be making 145lbs without the use of an IV for rehydration with the USADA agreement.
I am looking forward to putting on a strong performance for my fans, and hope everyone in Brazil is watching on Combate TV.  Fans coming to Costa Mesa that still don't have tickets, I have a few #TEAMCYBORG fan seats available by calling +1-714-312-5339.  Tickets are in the official Team Cyborg fan section and will come with a Cris Cyborg autograph and a quick pre weigh in greeting.
Friday Jan 15th the OFFICIAL WEIGH INS will be open to the public and Free to spectators.  I hope to see as many fans as possible make it to the event.  Weigh in's will start at 3:30PM at the Punishment Training Center in Huntington Beach, CA and will feature a free Muay Thai workout for the public led by Seuua Daao Muay Thai.
15321 Transistor Ln. Huntington Beach CA 92649
Saturday Jan. 16th the doors open at 5:30PM with INVICTA 15 officially scheduled to start at 6PM.
Following Invicta FC 15, fans are invited to join me at my Post fight celebration at 10 Night Club in Newport Beach
Fans looking to buy some of the new 2016 #TEAMCYBORG clothing, I will have it available at both the weigh in and fight along side the Team Punishment table.  Women looking to join me for my PinkBelt Fitness training camp Jan 23 and 24th will also be able to save 50$ by registering at the fight or weight check!