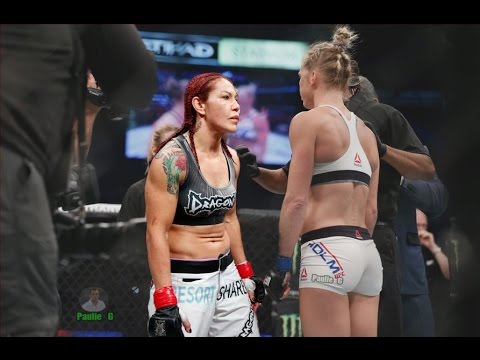 My management team has officially started open enrollment for my next UFC fight, as I defend my world title Dec. 29th in Las Vegas at the beautiful T mobile arena against HOLLY HOLM!!
This is a fight I am excited to announce for my fans, and one that I want to thank Dana White and the UFC for being able to put together.  With wins over Raquel Pennington and Ronda Rousey, Holly Holm has proven herself a former World Champion and will be a great opponent for a fight that I hope fans remember as one of the best in WMMA history once it is over.
As with all of my fights, my management team has put together a great package of value for companies looking to promote themselves aggressively with organic digital content, social media engagements, and product brand ambassadorship.  If you are interested in seeing if you can be a part of the sponsorship #TEAMCYBORG for #UFC219 you can send an email to [email protected]  
Cyborg NATION #UFC219 will be the third season of the hit web series created, following the viewership success of her 2016 self entitled documentary: CYBORG.
Cyborg Nation is the official behind-the-scenes, video blog series focusing on the final days leading up to Cris Cyborg's defense of her World Title and the UFC Featherweight championship belt at the state of the art T-Mobile Arena located on the Las Vegas strip in Paradise Valley Nevada.
This video series will be an exclusive look at Cris Cyborg and her team, during the craziness that is UFC Fight week!  The total video series will consist of 4 episodes giving viewers a rare glimpse of what fight week as a Main Event will be like for Cris Cyborg in Las Vegas Nevada.
Total segment time is projected to be 3-7 minutes in length and will be released Tue,Wed, Thur and Fri, of UFC Fight Week. Videos will be hosted directly to all Cris Cyborg Social Media Networks and shared to a selected group of premium media partners, which will guarantee an organic viral platform for your brand to be showcased globally within the desired demographics most attracted to the sport of the UFC and the female athlete of Cris Cyborg. The cost of filming for the 5 days and editing along with the responsibility of upload will all be assumed by Team Cyborg giving your company an opportunity to professionally produce visual content at a fraction of the cost normally associated with the quality of this work.
About Cris Cyborg:
Cristane Justino Venancio has maintained herself as an undefeated athlete in the sport of MMA for over 12 years. Cris Cyborg won the UFC Featherweight Title against Tonya Evinger becoming the only female to capture 3 major world titles; adding the UFC, Invicta FC, and Strikeforce Belts to her resume. 
A proven draw with the fans, Cris Cyborg's UFC debut witnessed a home crowd of 50,000 fans support her fight in Curitiba making it the 3rd most attended UFC event of all time. Building upon the success of UFC 198, Cyborg was able to become the most viewed female fight of all time on Fox Sports 1 when 1.325 million viewers watched her victory over Lina Lansburg who made her UFC debut at the 140lbs weight class. Returning to 145lbs at UFC 214 against Tonya Evinger for the Vacant UFC Featherweight World Championship, Cris won via TKO in the third round proving to be a PPV success as UFC 219 concluded with 850,000 PPV buys making it the highest buy rate for a UFC event in 2017
Currently Cris Cyborg's Official Social media:
Facebook fanpage: 933,000 followers
secondary fanpage: 100,000 followers
Twitter Account: 178,000 followers
Instagram Account: 500,000 followers
Cris Cyborg has an ORGANIC Social Media platform of almost 2 million followers!
About UFC 219:
Cris Cyborg will be fighting at UFC 219 in Las Vegas Nevada at the state of the art T-mobile Arena owned by the Anschultz Entertainment Group and MGM Grand Resorts. Her opponent is former UFC Bantamweight Champion and Ex World Boxing Champion Holly Holm, who is known for her KO victory over Ronda Rousey nearly 2 years ago. Conveniently located on the Strip in Paradise Valley Las Vegas Nevada the arena is situated between the New York- New York and Monte Carlo casino hotels.  Cris Cyborg will be defending her World #1 ranking, and the UFC Featherweight World Championship as a Superfight for the UFC NYE event.
UFC 219 will look to follow on the ratings success of UFC 214 as Cris Cyborg will headline a strong event that already has announced the fights featuring; The return of Carlos Condit, K1 star "Turkish Tyson" Gokhan Saki, Cynthia Calvillo, Carla Esparza, Kamaru Usman, and Scandinavian Emil Weber Meek. 
UFC 219 will be a Pay Per View broadcast in the USA.  Cris Cyborg's last appearance on UFC 214 is currently the 2nd most successful UFC PPV of 2017 with a speculated 750,000 buys.  UFC 219 preliminary fights will be shown on Fox Sports 1 and the UFC Fight Pass Digital Network.  With Global Partners: Central/ South America (Combate/UFC Network)  Europe/ Middle East/ Africa (Viasat Sport/ Abu Dhabi Sports/ Kombat Sports) Pacific Rim/Asia (TV5 Star Sports/Fox) this event is guaranteed to trend globally.
As a featured fight of UFC 219, Cris Cyborg will be priority feature for many leading magazines, newspapers, entertainment television and other digital network opportunities guaranteed to add additional platforms of marketing and exposure for your brand.
Our partners have enjoyed the benefits of our approach to sponsorship with much higher conversions of traffic resulting in higher returns on investments from advertisement and scatter budgets than the traditional "MMA Sponsorship" approach of Shorts Logo and Banner.  With Cyborg's sponsorship your company or brand are participating in the creation of organic digital content that Cyborg owns the rights to and is able to allow you to use after it has been filmed, edited, produced and distributed through our media partners during fight week.  Through this approach we are able to offer on going support via Cyborg's social media platforms with additional influencing posts and other marketing opportunities helping increase the overall value of the investment.  This is a great opportunity to attach your brand with one of the biggest stars in the entire UFC!
To start the application process of submit an email to [email protected] for additional details.