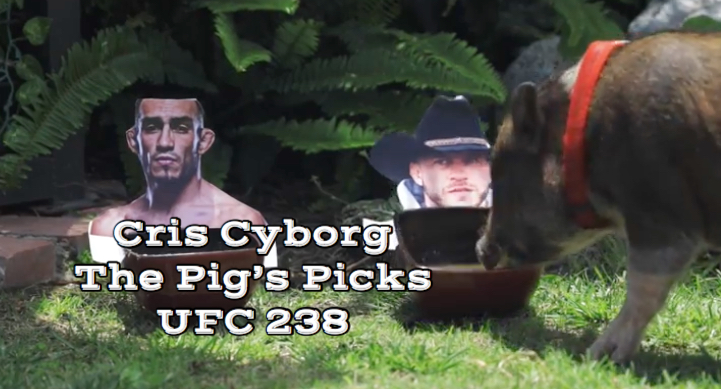 UFC 238 will be going down in The Windy City of Chicago this weekend and the main event will feature Olympic Gold Medalist and Flyweight world champion Henry Cejudo stepping up to 135lbs Bantamweight limit to face Brazilian Marlon Moraes.  A former World Series of Fighting Bantamweight Champion, Moraes is the #1 contender and after TJ Dillashaw was forced to vacate will be fighting for the vacant 135lbs.
Valentina Shevchenko will look to start her reign as the female flyweight champion in her first title defense against Jessica Eye who is riding a 3 fight win streak at 125lbs after having lost 4 consecutive bouts at the bantamweight 135lbs division, a weight class where Shevchenko fought Amanda Nunes twice, losing a controversial decision the second time.
Shoutout to Eddie Jimenez Productions for the film and edit work on this weeks Pig's Picks, also special thanks to Fetch the Extract Labs created CBD for pets.
A killer Co-Co main event for this card features Tony Ferguson Vs Donald Cerrone in a fight likely to determine the next face either Conor McGregor or the winner of UFC Abu Dhabi's matchup between Dustin Poreir and Khabib Nurmagomedov in the UFC 155lbs light weight division.
In a fun new addition to Cyborg Nation Network, celebrity pink Manny Porkiao will be giving his expert picks for UFC 238.  Anyone who has continued reading this far into the story knows, that this is a pig, picking which bowl he wants to eat first…and not actual advice to go and gamble….if you like the episode please subscribe to the channel, give the video a thumbs up…and turn on the notifications so that you don't miss the next one!.