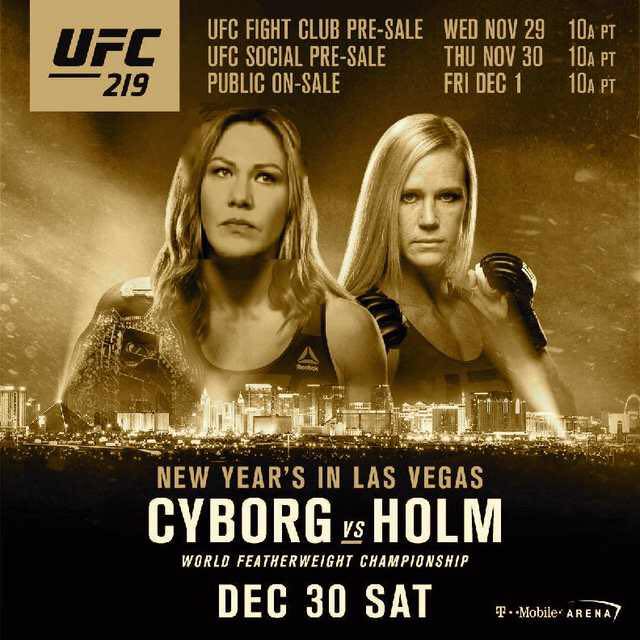 UFC 219 is coming…and it is coming FAST!  Tuesday will be the last face to face before fight week between Cris Cyborg and Holly Holm as the two will face off during an afternoon media event outside the Staples Center in downtown Los Angeles.  Holm who has gone 4-3 in the UFC is a former Bantamweight Champion who has become known around the world as the Woman who KO'd Ronda Rousey.  Since capturing the UFC Bantamweight championship however, Holm has struggled to live up to expectations as she has gone 1-3 after that historical victory over Ronda Rousey in Australia.

Rebounding with a highlight reel KO over Brazilian Bethe Correira, Holly Holm's victory in Singapore ended a 3 fight losing streak and put her in place for another title shot at the UFC Featherweight division, which Holm failed to capture last year with a controversial loss to GDR in Brooklyn New York.
Cyborg who will be making her first Title Defense after beating INVICTA BW Champion Tonya Evinger at UFC 214 in Anaheim California is set to face arguably the best female boxer of all time in Holly Holm for her first title defense.  Cyborg who has been training with a team of coaches and training partners even brought in Cecilia Braekhus, and Mia St. John in preparation for Holly's standup striking.
Cyborg who has an 89% KO career victory ratio, has yet to win her first fight by submission.  The 2x IBJJF Brazilian Jiu Jitsu World Champion is a Brown Belt in Brazilian Jiu Jitsu and currently training with the top grappling instructor in the world Cobrhinha, who is the only champion to win ADCC 4 consecutive times.  Will this be the first time we see Cris Cyborg submit an opponent inside the octagon or will we see Cyborg use her boxing training to keep Holly Holm within her range?
Fans of this fight can now purchase the PPV directly to their Smart Phone or Tablet…if you want more details on how to order UFC 219 PPV directly to your phone for Dec. 30th, click here!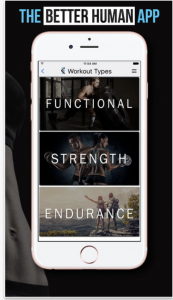 If you haven't started the #CRISCYBORG #FITNESSCHALLENGE yet, you need to join me and Gabi Garcia as we are getting set for your fights!  I have teamed up with the creators of BETTER HUMAN APP to create a CYBORG TAKEOVER where I send you my exact workouts for the lead up to the Holly Holm fight. These will come direct to your phone and you can do them along with me!! The app features a ton of other features, including the PHOTO RECOGNITION feature…literally all I do now when I am logging my micro and macros is take a pic of my food.  Once I have taken a pic of my food (which I do anyways, lol) the app then classifies the food and tracks how many micro/macro's I have eaten. This app is game changing and a BIG reason why I am in such great shape ahead of the fight with Holly Holm.  If you want the Cyborg Workouts, make sure you use the BHA code: CYBORG at registration! CLICK HERE TO GET STARTED