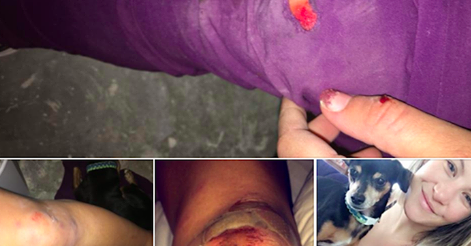 Former UFC Champion Miesha Tate was like Wonder Woman when it came to protecting her dog Skooter from a charging Cane Corso.  Posting on her Facebook Miesha described the entire situation, and we have to admit…it sounds terrifying!
Miesha ended up with several significant scraps and bruises as you can see by the pictures she posted.  Acting sheerly on instinct the UFC Champion talks about how she pushed the aggressive Cane Corso off her dog and scooped her puppy up into her arms.  The entire situation happened so quickly she didn't have time to react.  Miesha who is 7 1/2 months pregnant said that she wasn't really thinking at the time, but that she thinks her instinct would have reacted the same as there is no way she would have watched her dog being viscously attacked.
Great Work Miesha! Glad to see you didn't get injured too badly, and hopefully those bumps and scraps heal quickly.  You are one fantastic momma bear and we are sure you are going to take great care of your baby cub!
Cyborg Nation

If you are looking to start off the summer right, get started with my functional meal and diet plans.  Working together with the creators of the Better Human App we have developed an easy and convenient shopping list and meal plan that will help you reach your micro and macro intake needs.  To get your hands on the plans, click here!