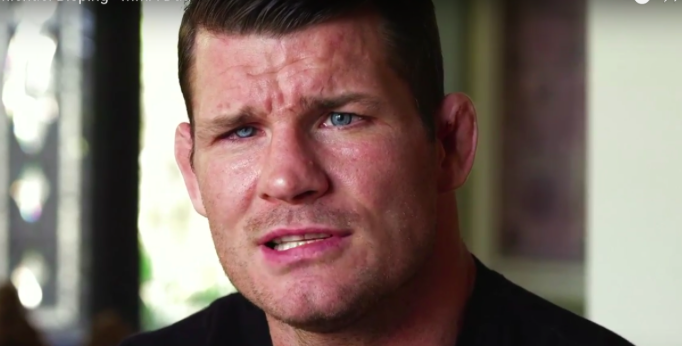 With 39 professional MMA fights, it appears as if there is never going to be a number 40 for European MMA pioneer and UFC legend Michael Bisping.  Today on his own podcast, former UFC Champion Michael Bisping made his retirement from the sport of MMA official after a successful 14 year professional career that saw him finish with a 30-9 professional record.
Bisping who started his MMA career in 2004 made a name for himself remaining undefeated and becoming the Cage Rage Light Heavyweight Champion by beating local legends like Mark Epstein, Jakob Lovstad, Alex Cook and Ross Pointon before joining the UFC on season 3 of the Ultimate Fighter and becoming the tournament champion.
Bisping started his career 7-1 before a loss at UFC 100, in a fight he would vindicate in 2016 as a title defense of the UFC Middleweight World Title, which he won by first round KO over Luke Rockhold at UFC 199. With UFC Wins against Elvis Sinosic, Matt Hamill, Chris Leben, Denis Kang, Dan Miller, Akiyama, Jorge Rivera, Mayhem Miller, Brian Stann, Alan Belcher, Cung Le, CB Dollaway, Thales Leites, Anderson Silva, Luke Rockhold and Dan Henderson, Michael Bisping has beaten some of the biggest icons in the sport during his 29 fight UFC Career.
Bisping now 39 years old spoke openly about an injury he has been dealing with since his loss to Kelvin Gastelum at UFC Shanghai last November, his second loss in a time of only 22 days.  Bisping injured his right eye in a bout against Vitor Belfort in 2013 which almost brought him to retirement, however Bisping revealed that in his last fight against Kelvin Gastelum he suffered an injury that has caused him to start seeing "flashes" out of his left eye, that have been persistent ever since.
Bisping said, "I realized there's no flash going on; it's just my eye, and every time I look left it flashes.  And it still does it now when it's dark. It's light now so I can't see it. So I started freaking out, thinking oh my god, I don't believe this, I've got a detached retina in my good eye. I have problems with my bad eye, it doesn't look good, so obviously I was kind of freaking out."
https://youtu.be/yWxwWWAm1Ks
Ultimately doctors told Bisping he has a Vitreous detachment in his left eye, a condition that will put him in an increased risk for another detached retina.–If with concerns that he could lose vision in. both eyes permanently, Bisping said he still planned to move forward with a retirement fight against Rashad Evans for UFC London however he was unable to get the UFC to make that matchup.  Bisping said the decision to retire became final during a flight Sunday night where he watched the movie JOURNEYMAN–where an older prizefighter from boxing suffers severe mental and physical problems as a result of brain trauma from fights at the end of his career. Currently there is no system in place for retired UFC fighters to receive on going medical support for injuries sustained during their career.
With his retirement, Bisping has set records that include the most wins in UFC History, most fights in a UFC Career, most significant strikes landed, and second most total time inside the octagon.  Bisping went on to say,"I've done everything that I set out to achieve, and fortunately now I've used my platform to open other doors. You know, you've got to know when to walk away. I'm almost 40 years old, the time is now. So, I want to say, first of all, thank you to my wife. Without her, it wouldn't have happened. That's a fact. She was incredible every single step of the way. My children. My dad. My dad was amazing. And of course everyone in the U.K. and around the world that supported me."
CYBORG NATION, make sure you send a farewell to the legend Michael Bisping, it will be a long time until the sport sees another fighter like him!