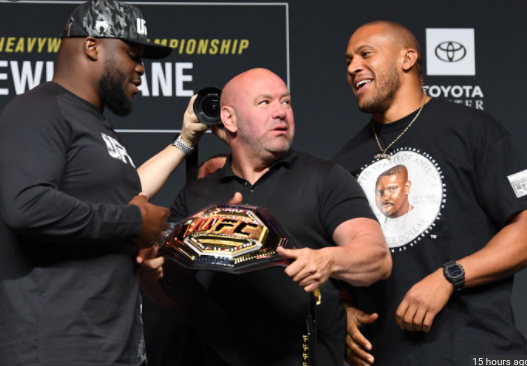 Tonight the fight was a great fight for Jose Aldo  who took the win against Pedro Munhoz  on UFC 265. Jose Aldo da Silva Oliveira Junior won by unanimous decision against Pedro Munhoz
José Aldo da Silva Oliveira Júnior, most known as just as Jose Aldo, is a Brazilian professional MMA fighter. He is currently competing in the Ultimate Fighting Championship most know as just UFC where Cris Cyborg was a champion of. He was the 4th and final WEC Featherweight Champion,  he became the first UFC Featherweight Champion after the UFC/WEC union. Tonight Aldo fought Pedro Henrique Lopes Munhoz who is also a Brazilian MMA fighter who is currently fighting in the Bantamweight division in the UFC . He is the former Bantamweight Champion of Resurrection Fighting Alliance. As of July 26, 2021, he is number 9  in the Ultimate fighting Championship bantamweight rankings.

Tonight in the UFC 265 Lewis vs. Gane is a MMA  event that is being produced by the well known event the UFC that is  taking place today  August 7 at the Toyota Center in Houston, Texas, United States. Tonight they are going to be fightin in the main event in Houston, Texas the referee that is going to be working with them today is  Michael Beltran who is a well known referee and man all aroung the United States. 
I Cris's opinion she thinks that they both have a good chance of winning and that if its a fast fight its going to be Lewis for sure. Cris Cyborg is a world MMA champion, today fighting in Bellator. Cris Cyborg has 4 different belts including  a Bellator, UFC, Invicta and Strikeforce belt.  Cyborg was born in Curitba, Brazil and now lives in Huntington Beach, California. Cris started to get involved in sports when she was around 15, she started with Handball and one day a MMA coach from a well known gym in Brazil named Chute Boxe saw her training  and asked her to participate in one of the practices, she did and ended up falling in love with it. Cris Cyborg has a passion for animals and is the owner of Two dogs, a Bengal cat, a mini pig,  a Maine Coon and multiple Fish & Birds at Cyborg's zoo.