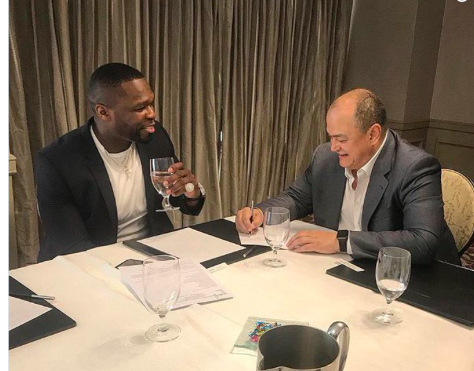 News of Bellator CEO Scott Coker meeting with Hip Hop mogul 50 cent spread quickly this week once the rapper put up a picture of the two of them in a meeting setting with what would appear to be official papers, possibly even contracts in front of them.
Earlier this week we broke the story of Oscar De La Hoya looking at heading into MMA with his first event being a historic third fight between UFC Hall of Fame fighters Tito Ortiz and Chuck Liddell.  Fans of MMA will remember that Chuck Liddell won both of the previous encounters, which might be one of the motivating factors for Tito Ortiz wanting this fight after having previously announced his retirement.
50 Cent who has had an on-again-off-again feud with boxing great Floyd Mayweather hasn't released many details from the meeting, which Ariel Helwani reported was mostly a 'fact finding' meeting between the two business master minds.