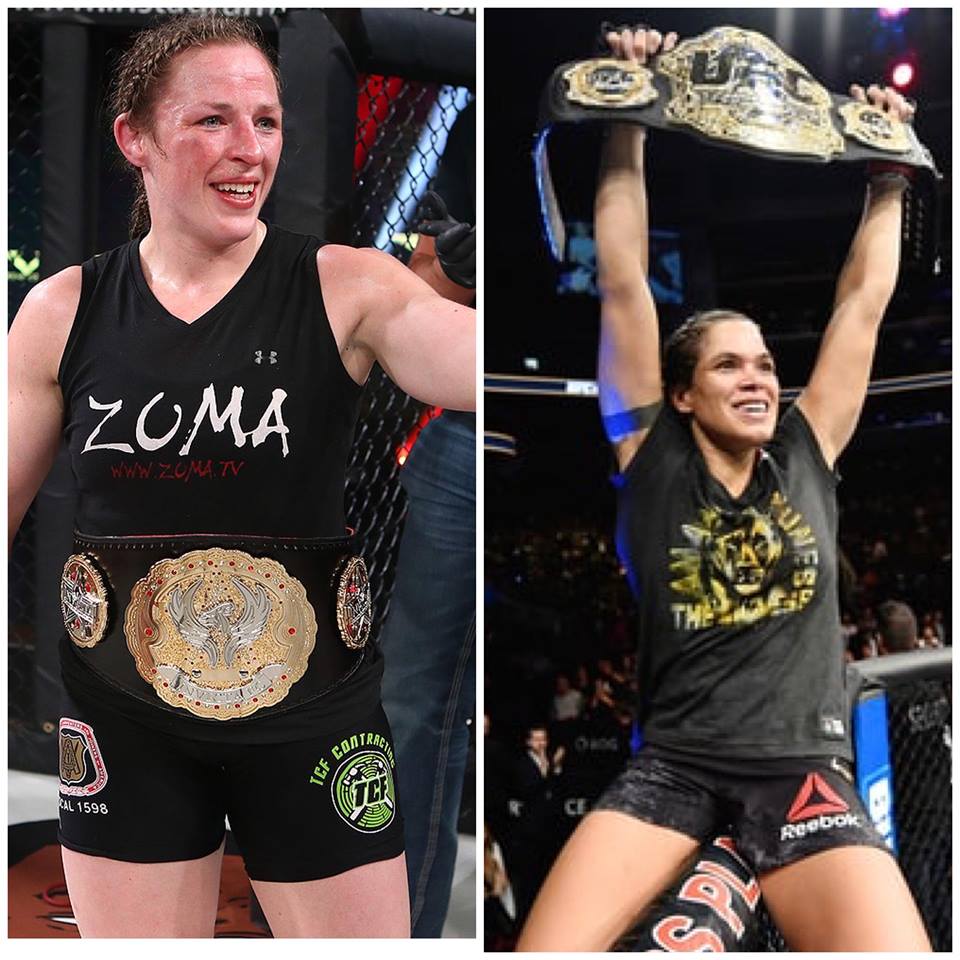 Sarah Kaufman made her professional debut in 2006 in Vancouver Canada picking up a KO win in her first fight and then went on to win her next 12 professional MMA fights without a defeat.  During that span Kaufman defeated Future UFC Champion Miesha Tate, former Rousey UFC challenger Alexis Davis, former UFC title contender Valerie Letourneau, SMACKGIRL Veteran Molly Helsel, Bellator Veteran Sarah Schneider,  former UFC standout Shayna Baszler, JEWELS standout Takayo Hashi and Ultimate Fighter runner up Roxanne Modafferi before suffering a defeat to Marloes Coenen by Armbar in 2010.
Kaufman also helped pioneer the sport of WMMA, when she faced Valerie Letourneau at TKO 29 she became the first female fight in the promotions history. Kaufman won her first title by defeating Ginele Marquez in 2007 to become the HardCore Championships Bantamweight Champion and when she defeated Miesha Tate in 2009, she became the first recognized World Champion of the Bantamweight division.
Following the loss to Coenen, Kaufman went on to defeat eventual UFC title contender Liz Carmouche, Japan wrestling legend Megumi Yabushita, and earned a SECOND win over Alexis Davis before eventually losing to Ronda Rousey in a chance reclaim the World Title Kaufman lost to Marloes Coenen. Two wins against Leslie Smith and a NC against Jessica Eye at UFC 166 and Kaufman was put in a position where she gave a surging Alexis Davis a third fight despite already being 2-0 in the series.
Davis a BJJ Black Belt by 2015 was able to secure an armor victory over Kaufman who then went on to lose a RAZOR THIN split decision to former Amanda Nunes challenger Valentina Shevchenko.  Since Kaufman's departure from the UFC she picked up a decision win against current UFC fighter Jessica-Rose Clark in Korea, Scandanavia's #1 rated Bantamweight Pannie Kianzad, and gave Katharina Lehner the first loss of her professional career to capture the vacated Invicta FC Bantamweight Championship.
Former Champion Tonya Evinger is currently in the UFC, following a TKO loss to Cyborg at Featherweight Evinger was scheduled to return to Bantamweight and face Marion Reneau however a knee injury has her rehabbing before she can return to the cage.  Current UFC Champion Amanda Nunes has a loss against Alexis Davis via TKO whom Kaufman is 2-1 against and while Nunes defeated Rousey and Tate-she didn't face them at the same time in their careers as when Kaufman's bouts took place.  Nunes who also owns a split decision against Valentina Shevchenko was also formerly signed to the Strikeforce and Invicta FC promotions, however never held world titles for those promotions.
With the victory against Katharina Lehner and the Invicta FC Bantamweight belt, Sarah Kaufman joined just one other female fighter; Cris Cyborg as the only two women in the history of MMA to have captured the Strikeforce and Invicta FC Championships.  Kaufman who is not currently signed to the UFC won the World IBJJF Nogi at Brown Belt and was recently promoted to Brazilian Jiu Jitsu Black Belt.  A well rounded fighter like Kaufman could pose many stylistic problems for an opponent like Amanda Nunes.  While both women are currently signed to different promotions, we might not get to see who is the best 135lbs female fighter in the world.