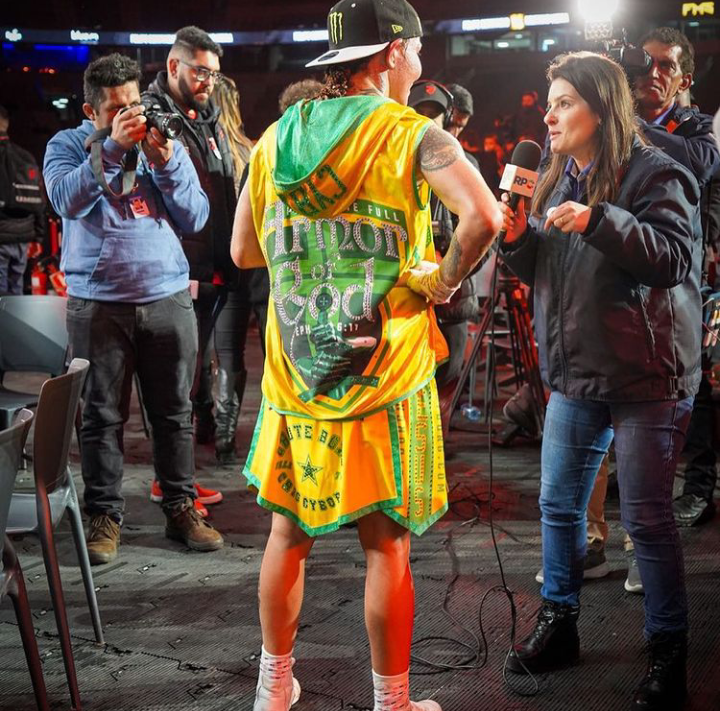 The Grandslam champion's fight was yesterday in Curitiba Brazil against Simone Silva, it was her first boxing fight ever. Most fans believed that Cyborg was going to take the win home easy since she is so strong and has heavy hands and they were right she did take the win home. The fight was an eight 2 min round fight. All rounds were won by Cyborg the fight. Simone Silva took some pretty hard punches and was still able to stay up throughout the whole fight.

Cyborg and her opponent fought with 152 lbs for the fight. Her opponent Simone Aparecida da Silva is a Brazilian boxer that has been fighting professionally since 2005 and is a really experienced opponent. She has a boxing record of  17-23 and has about 40 fights under her belt. Simone Siva has also some pretty big names on her record like Amanda Serrano, Maricela Cornejo, Tiara Brown, Carolyn Redmond and many more girls too. This fight was the co main event, right after Acelino "Popo"Freitas  took the win home in less than a minute against Pele. There were so many great fights in the card like the fight of Dynho Alves vs. Christian Figueiredo and the fight of  Thor Silva vs. Gabriel Bonfim.
Brazilian Boxing legend Acelino Popó Freitas who is a 4x World Boxing Champion in 2 divisions also having unified the WBO and WBA belts from Salvador Bahia.  The Brazilian Boxing legend went on to put a good exhibition fight against Pele. zThe fight was won by Acelino with a knockout that happened in less than a minute. The crowd was not surprised since Pele was the underdog.

Also make sure to follow the fighters that are on the event and us that share the news with you  everyday in the website. If you want to know more about the grand slam champion Cris Cyborg, her training, her personal life, fight camps, preparation for fights, Cyborg Nation events, PinkBelts,  Cyborg's pets and more follow her on Instagram, Facebook, Tiktok, her Youtube channels which is Cris cyborg. Make sure to stay tuned in all of their social media to know when news comes out. And if you guys want to know more about the Pinkbelts and the NC Fights.