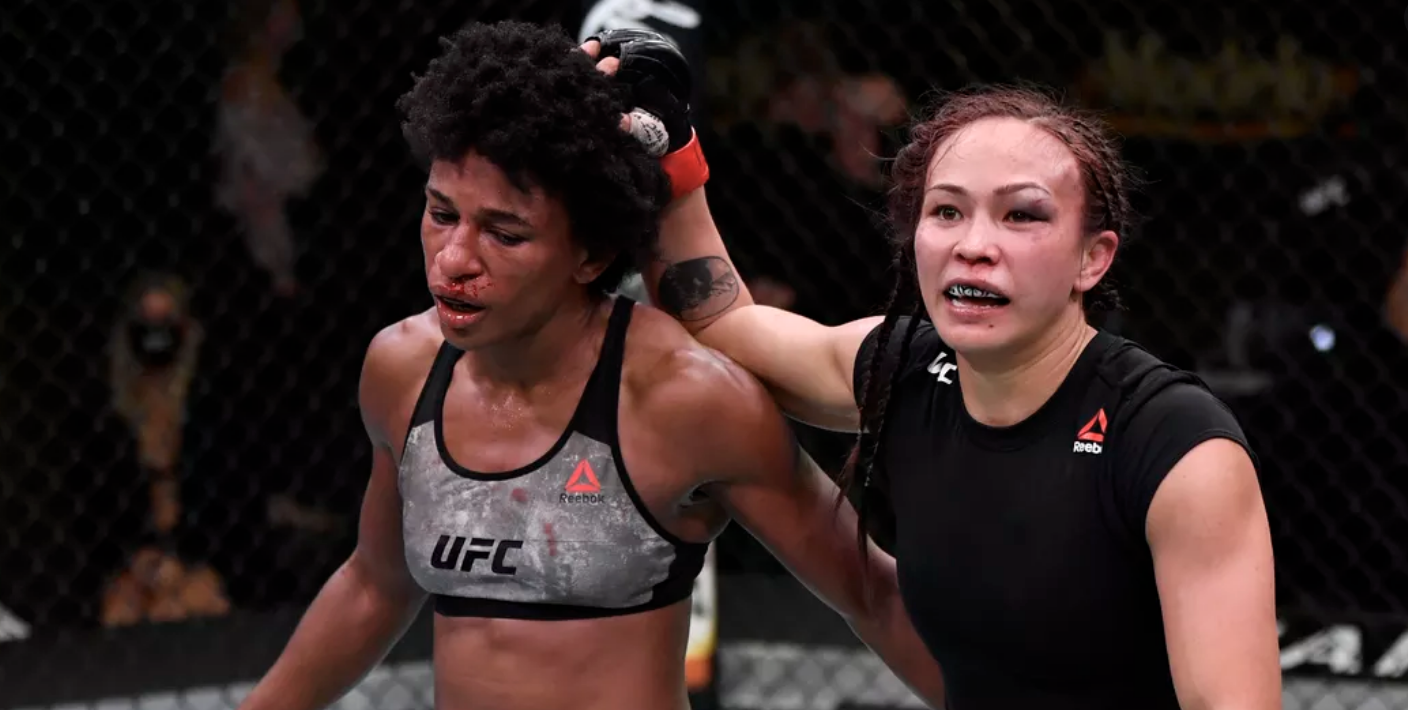 This past weekend at #UFCLasVegas10 Fans got an opportunity to watch two former Invicta World Champions in an exciting 5 round event, which featured Angela Hill against Michelle Waterson in a historic bout that featured the first African American Female in the main event.  The fight took place in Las Vegas inside of the smaller cage at the Las Vegas Apex institute.  Winning the first round hill landed powerful punches hurting Waterson within the first minute of the fight, using her movement to avoid the counter striking of Waterson.  Looking to take the fight to the floor Waterson saw her takedowns defended with Hill continuing to apply pressure. It was an exciting round with both fighters landing significant strikes, however it was clear Hill was landing the cleaner harder punches.
In the second round Waterson tried to pick up her striking with even more aggression, however Hill continued to land the harder and strong strikes.  In round 3 Waterson was finally able to close the distance and establish a takedown where she landed in the top half guard, where Hill threatened with a Kimura before returning to her feet where Waterson secured another takedown. Hill was able to secure full guard with Waterson landing some limited striking.  The fourth round showed both fighters using the Jab and Waterson finally starting to find some success on the feet, as Angela Hill started to visibly slow her work rate in round 4.  As the 5th round started both women came aggressive with Hill landing the harder punches, and Waterson doing her best to counter with kicks and stay out of range.
With visible damage on her face from the strikes Waterson waited for the score cards to be read and it was 48-47 Hill with two other judges scoring the fight 49-46 for Waterson, giving the Karate Hottie the victory and moving her one step closer to a UFC Championship opportunity.  Angela Hill dropped the split decision loss, however on the most recent The Catch Up with James Lynch, Cris Cyborg said she felt Angela Hill had won the fight however without a crowd maybe the judges where influenced by her corner cheering their own fighter.
Cyborg returns Oct. 15th with THURSDAY NIGHT FIGHTS as Bellator MMA makes their first USA promotional event on the new CBS Sports Network.  Cyborg will be facing 2x Boxing World Champion Arlene Blencowe as she looks to defend her Bellator MMA Championship, the final achievement giving her the only MMA Grand Slam Championship after she captured every professional world championship in the sport.  A Brazilian Jiu Jitsu Brown Belt and 2x IBJJF World Champion Cris Cyborg is an ADCC medalist and a Chute Boxe Muay Thai black Belt and will face off against Blencowe Bellator's #1 contender currently riding a 3 win victory live on ESPN Brasil.