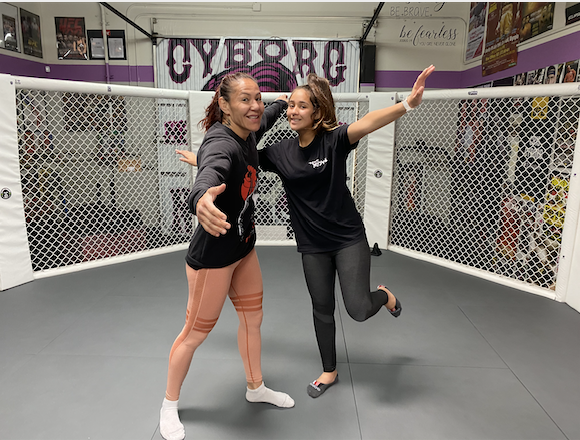 Cris Cyborg has been part of the Viacom CBS Alone Together campaign by uploading daily workouts for the duration of the mandated 15 day home quarantine.  Today marked the final exercise, but with news of the recent suggestions of extending the social distancing through the month of April, Cyborg announced today that her Weekly-Mon-Fri 10AM PST BootCamp concluded today, however she will still be leading once a week training sessions on Thursday's live at 10am.
Today's workout Cyborg had a great mix of cardio, strength building, endurance exercise during the training routine.  In total the Bootcamp featured 8 HIIT, high Intensity Interval Training workouts, with the added month of April it will bring the total Quarantine BootCamp to 12 workouts.  If you haven't already, subscribe to the Youtube Channel with notifications on, by pressing the little Bell.  Tomorrow we will be releasing a special feature of Cris Cyborg as she participated in the recent Read Across America event before the Corona Virus forced school closures.
Cyborg the only MMA Champion to win every belt in their weight class, became the sports Only Grand Slam Champion when she defeated Julia Budd.  Budd who had been undefeated for 8 years  was the only remaining championship belt Cyborg had yet to win during her career.  With the TKO Victory Cyborg made history as the only Strikeforce, Invicta, UFC, Bellator champion in the history of mixed martial arts.