Wednesday afternoon members of the media gathered inside the private training facility of 15x MMA Grand Slam Champion Cris Cyborg as she hosted an open workout which included media such as ESPN, Orange County Register, SHERDOG, ESNews and more.  With sounds from the Official Cyborg Nation @DeeJayProphet and a catered lunch for those attending the open workout Cyborg went through a light round of shadow before a round of boxing padwork and another round of traditional Muay Thai kicks on the KickShield.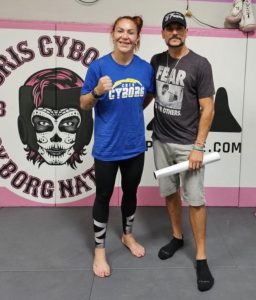 Cyborg who will face undefeated #1 Bellator MMA contender Cat Zingnao Oct. 7th in San Diego California as the Co Main Event of the historic Bellator 300 fight card which features 4 Championship fights took time following the open media workout to do individual interviews with Marc Raimondi, Elie Seckback, Alex Fernandez and more.
A Brazilian Jiu Jitsu Black Belt Cris Cyborg will be looking to make her 16th successful victory in a Championship Fight when she faces Cat Zingano something that no other female fighter in the history of Mixed Martial Arts has been able to accomplish and a feat that has taken the Champion nearly 19 years to complete.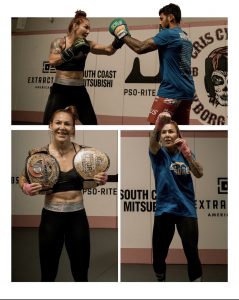 With Photographers like Dave Mandel, Iliana Sandoval, and Hans Gutknecht on hand the event as a fantastic success promoting the #CyborgZingano matchup which will air live on SHOWTIME SPORTS in the USA and Canal Combate in Brazil. If you are wanting to watch the fight live in person in San Diego Oct. 7th you can purchase your tickets HERE.