The Fight scene is starting to heat up in Detroit! Friday Night Claressa Shields a 2x Olypic Gold Medalist will look to win the biggest fight of her pro career as she faces Nikki Adler for the WBC Gold Belt live on Showtime starting at 7PM
Today Cris Cyborg UFC and boxing legend Christina Hammer  are set to Host an Exclusive Media Roundtable Discussion at the MGM Grand Detroit: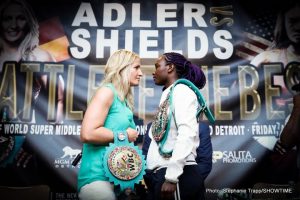 starting at 2:00 pm inside the MGM Grand Detroit, the media is cordially invited to a very special round table discussion with Brazilian-American mixed martial arts superstar, current UFC Women's Featherweight Champion, and Claressa Shields sparring partner, Cris Cyborg, as well as undefeated five-time world boxing champion, international superstar, and Nikki Adler associate, Christina Hammer.
Two of female fighting's best-known stars worldwide, the pair will be available to discuss their takes on the next-day showdown between WBC Super Middleweight World Champion Nikki Adler (16-0, 9 KOs) and two-time Olympic Gold Medalist Claressa "T-Rex" Shields (3-0, 1 KO) on Friday, August 4, at MGM Grand Detroit.
Watch Claressa Friday night on ShoSports Showtime Boxing
Thursday, August 3
2:00 p.m.
With the UFC Heading to Detroit for UFC `218 December 2nd, could we see the UFC Star fighting in the motor city capitol soon?
CRIS CYBORG AND CHRISTINA HAMMER MEDIA ROUNDTABLE
(Media Only)
Location: Ignite
MGM Grand Detroit
1777 Third Street, Detroit, MI
3:00 p.m.
OFFICIAL 'BATTLE OF THE BEST' WEIGH-IN
OPEN TO THE PUBLIC
(Must be 21+ to Attend)
Location: Ignite
MGM Grand Detroit
1777 Third Street, Detroit, MI