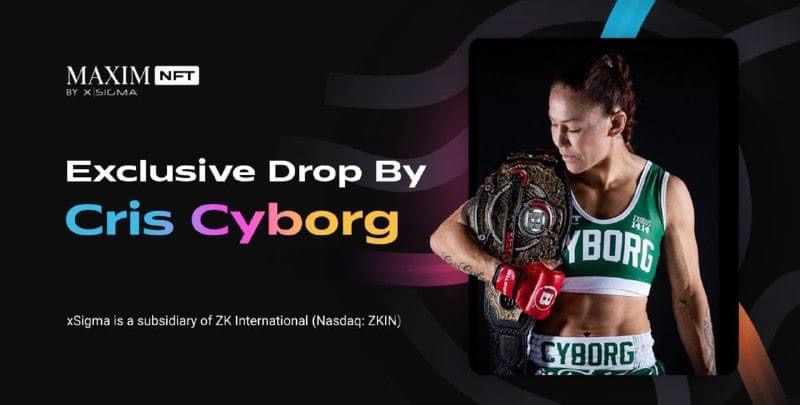 Cris Cyborg is the only fighter in the history of Mixed Martial Arts to be recognized as the sports Grand Slam Champion, a title she earned after capturing every major championship in the sport of MMA including; Strikeforce, Invicta, UFC, and Bellator MMA featherweight Champions.  Establishing herself as one of the sports premier names during her dominate 16 year reign in the sport, Cyborg again made history in March of 2020 when she became the first professional Athlete to offer their fans a NFT blockchain collectible when she partnered with the NiftyGateway exchange.
Working with Nasdaq traded ZKIN ZK International Group CO., and their subsidiary xSigma Collectibles Cyborg will launch her unique NFT collection on MaximNFT, an exclusive marketplace partnered with Maxim Magazine.   The NFT collection will feature a host of rare 3D collectibles certified and Authenticated by Cris Cyborg.  The holder of the most exclusive MaximNFT will receive an exclusive personal training session with the fighter.  Fans can also look for MaximNFT to be featured on Cris Cyborg's uniform ahead of  Bellator 271, in addition to the fight week digital series.
With over 3.5 million organic followers on Social Media, Cyborg is one of the most recognizable names in the sport of Mixed Martial Arts.  Jon Orlando, CEO at MaximNFT had this to say: :Cris is a legend of female martial arts, and we are proud to be the launchpad for her unique collection, which will come with a personal training session to the holder of the rarest token.  We are excited to announce more collaborations like this in the near future.  Our platform is getting ready, and we plan to start beta testing in the coming days."
Cris Cyborg went on to say, "As a supporter of Crypto and BlockChain technology, I am excited to align my brand with a partner like Maxim NFT and join the Maxim Magazine network.  As innovators in the NFT space, we look forward to providing my fans with the most innovative and creative collectibles in this space."
The date of the NFT drop will be announced in the coming weeks, MaximNFT will go live this fall with a series of NFTs for celebrities, athletes, and brands, which will be announced soon.  Details on beta testing will also be forthcoming. Maxim.com is a monthly men's lifestyle magazine with over 25-years of history and a multi-million reader base that spans 75 countries. Under the terms of the agreement, xSigma's NFT platform will operate under the Maxim brand and be promoted by Maxim.com. Join the WAIT LIST NOW for first chance access!