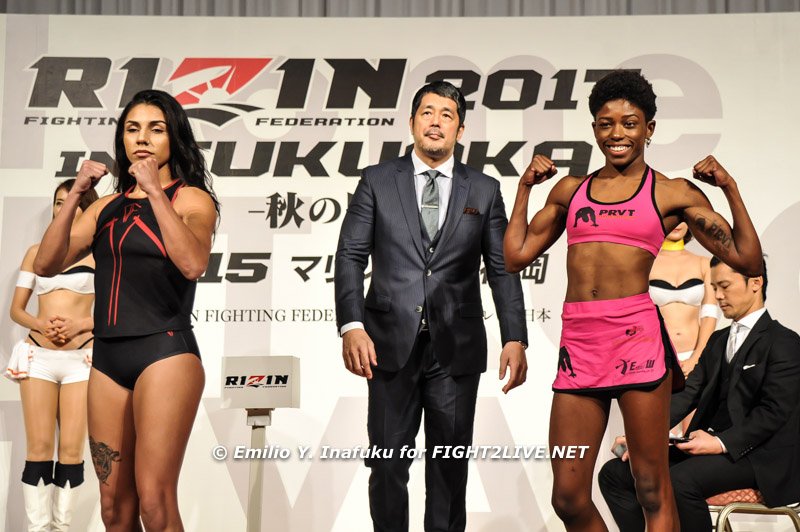 If you haven't checked out Maria Oliveira's fight from Rizin against Alyssa Garcia in the opening round of the Women's Atom weight tournament, make sure you watch the video below!  Maria SPIDER GIRL trains out of Parana Vale Tudo with UFC Champion contender Jessica Andrade.
https://www.youtube.com/watch?v=PyWv_IEIa9s
This was Maria's first big fight outside of Brazil and she showed a great aggressive style in the opening round of the tournament.  Look for the SPIDER GIRL to return for the big RIZIN new years eve show as she tries to become the Grand Prix's winner. In her next bout Maria Oliveira will face Kanna Asakura who shares Alyssa Garcia as a mutual opponent with Maria, however Kanna lost a decision last New Year's against the Josh Barnett prodigy Alyssa Garca of Orange County California.
While it might be a bit early to compare here to one of the greatest fighters of all time, it was easy to see her long rangy muay thai working the comparison.  I loved the fight, and seeing another strong female fighter coming out of my country makes me happy, and I hope all of Brazil gets behind her with support as she tries to become the first atom weight GP winner in Rizin history!
CYBORG NATION go follow Maria SPIDER GIRL Oliveira as she trains and gets ready to show all of her work on Japan's biggest stage this New Years!