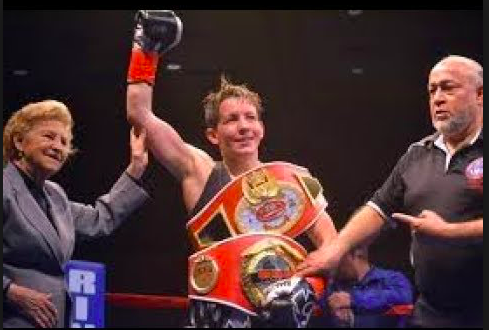 Layla McCarter is a former World Champion and the current #1 contender to Cecilia Braekhus.  After nearly 4 years of chasing Braekhus to make a fight, McCarter steps back into the ring June 16th to face Ruth Chisale as she looks to continue her 11 year boxing unbeaten streak and continue to build upon the momentum of her win over Victoria Cisneros last march.
— Layla McCarter (@LaylaMcCarter) May 18, 2018
Speaking with Cyborg Nation favorite Helen Yet after training at the Mayweather boxing club, McCarter took time to share her thoughts on Cecilia Braekhus, an opportunity to fight with Cris Cyborg, and her overall thoughts on the sport of Women's boxing. McCarter who has been a veteran of over 60 professional fights went on to say that Cecilia Braekhus has done a lot for the sport of women's boxing by remaining undefeated, and competing in Europe.  McCarter went on to say that Braekhus last fight against Keli Reis didn't impress her much, but that there has been talk between the two to make the fight.  Layla revealed that Braekhus wanted over a million dollars to fight McCarter on Showtime, which she felt was a bit unrealistic stating that Cecilia has never earned that type of payday in boxing.
McCarter showed support for a fight between Cyborg and a cross-over fight to boxing, provided it gives women an opportunity to make money and continue to bring attention to the sport.  McCarter appeared to want the fight against Braekhus before Cyborg steps into the boxing ring, however Layla McCarter let everyone know that she is game to step into the ring to fight anyone, anywhere, anytime.  The veteran of over 20 years of professional boxing said that she will be realistic in her pricing if she is offered a bout with Cyborg stating that she isn't going to demand millions of dollars if the fight opportunity is presented-one thing is certain, and that is that Layla McCarter has paid her dues in boxing and helping pioneer the sport and is due for a premier fight and payday before her career is finished.