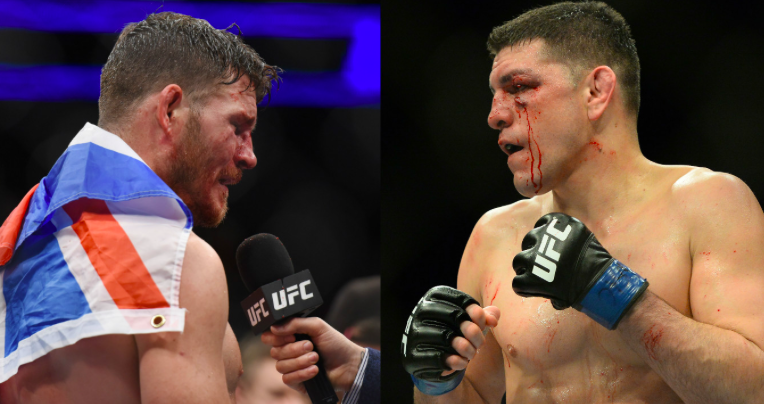 Last week the rumors were that the UFC was talking to Michael Bisping about a possible retirement fight with Nick Diaz now that Diaz has recently been cleared by USADA.  Diaz who was suspended for a year by USADA following 3 failed wearabouts notices, has only been tested once in 16 months according to the official USADA testing site despite remaining in the testing pool the entire time.
Speaking to MMANYTT
"No, no. I'm not fighting Nick Diaz, it's all total bullshit. I haven't spoken to the UFC about anything, they haven't even come to me. In fact, I'm a little bit offended the Ultimate Fighting Championship – what the fuck?"
"The only issue is that if I do fight, I want it at 205 and I don't think Nick would do 205. Because making 185 for the last, you know, ten years – it's been so hard. Making 185 for me is not an easy task," declared Bisping.
While Bisping was quick to say that the rumors where not true, he also mentioned that he was hopeful to have a last fight and that it would probably take place at light heavyweight, however he's open to the idea of a catchweight bout against Nick Diaz.
"It's not an easy task at all. And if I'm going to fight one more time, it's going to be at light heavyweight. Or I do a catchweight, you know, maybe a 195 or whatever. But making 185 for me is too hard. So if Nick would be willing to come up then I'll do it, I'll accept. If he comes up to 195 or something like that, I'm down, I'm in – sign me up!"