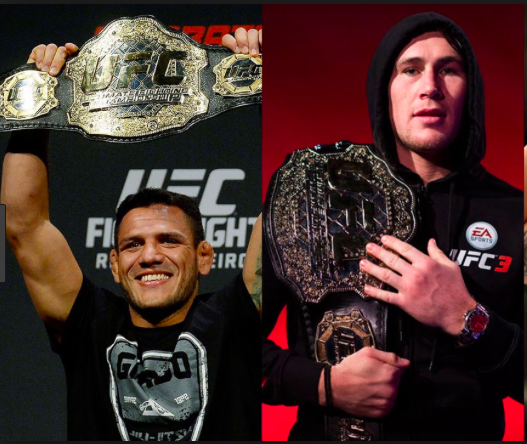 UFC 225 is going to feature a title fight with Robert Whittaker facing a rematch of Yoel Romero, and an Interim title fight of Colby Covington facing Rafael Dos Anjos.   Despite the fact that Stephen Thomson is the #1 contender for Tyron Woodley, and the fact that Tyron Woodley would be making a return to competition in July or August, the UFC decided to take the #2 and #3 contenders in RDA and Colby Covington and have them face each other for a new belt.
Speaking to Nick Baldwin at BloodyElbow, Wonderboy had this to say about the creation of the new bet, "I don't think so at all. If [Woodley]'s out for another year or two, then probably yeah, I think you should. But if he's saying he's gonna be back in July or August, there's no reason why you should be fighting for an interim title. It almost diminishes the value of the title, because they're just throwing it out there — it's like, 'You can fight for an interim title, sure.' I don't think they should be fighting for an interim title. If [Woodley] says he'll be back in July or August, then just say, 'Hey, the winner of this will fight for the title.' I don't know what the UFC is playing at or what their thinking is when it comes to the interim title. But they're just like, 'You can fight for it anytime. Anybody can fight for an interim title.' I think it's just politics. I think that they are trying to make that market out there (in Liverpool). And he's calling me out, so why not make that happen? I fought for the title twice, and I guess they don't want to see it again until I prove myself again. I think that's just what the UFC is thinking."
Wonderboy fought Tyron Woodley twice for the UFC World Title, losing one of those bouts and then having the other scored a DRAW, which enabled Woodley to retain the belt.  The creation of the Interim title has been a promotional tool for the UFC that appears to becoming more popular.  With an Interim Title at Middleweight, Robert Whittaker had to wait until GSP vacated his belt to be unified.  Khabib Nurmagomedov never faced the champion, or the #1 contender, however after having Tony Ferguson stripped following injury and Conor Mcgregor stripped for not competing was given a unified belt and now we see RDA v Covington for an Interim title.  There have also been rumors of Benavidez Vs. Cejudo at 125lbs for an Interim title despite the fact that Mighty Mouse has never lost at that weight, and defended his world title more than anyone else in the history of the UFC.
For Wonderboy to get another world title shot, he will have to beat Darren Till at UFC Liverpool.