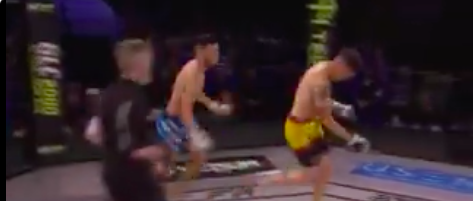 Injuries in fighting are a part of the occupation, however injuries such as the one witnessed at LFA 39 are not the norm when it comes to MMA. In an epic NSFW type of ending, Flyweight Brandon Royval broke the arm of Jerome Rivera who was retreating against the cage.  The injury was shown as part of the LFA 39 event that took place inside the Dodson Arena in Vail Colorado and was showcased on the AXS TV portion of the televised fight card.
The elbow which either broke or was dislocated severally happened when Rivera attempted to support himself against the cage.  The While Royval went on to throw a head kick, the ref quickly stepped in to call the fight, which gave Royval the TKO victory.
Is this the most gruesome injury you have seen inside the cage?  Fans of the UFC will remember when Anderson Silva broke his leg after Chris Weidman was able to successfully counter a low kick with his shin utilizing a 'block' of the kick which left the bone broke, the action from LFA 39 had an eerie similar feeling.
Well this just happened at #LFA39… 😱😳 @LFAfighting @brandonroyval pic.twitter.com/7QgERTvczT

— AXS TV Fights (@AXSTVFights) May 5, 2018