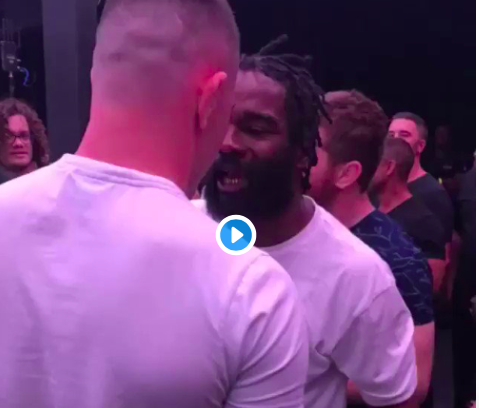 Charles Bennett, AKA Krazy Horse, AKA Kid Chaos, AKA Felony was making his MMA debut for CamSoda Legends, an MMA event that was live streamed on a pornographic website. While we will save you the details of the entire events, there was a near cage side mix up between UFC Welterweight Colby Covington and Charles Bennett.
The incident started between Mike Perry and Covington who were in the crowd, and escalated to the point that Bennett interjected himself into the confrontation.  Exchanging a few words Covington pushed Bennett who responded by throwing a punch–the dust off was avoided when former WEC champion Matt Brown juggled his beer and separated the two.
Charles Bennet lost a decision to Bruce Lutchmedial in the Co Main Event while the main event featured UFC Veteran Alex Nicholson against former UFC Champion Ricco Rodriquez.  Ricco lost via TKO in the first round. Check out the total Chaos from the event from social media.
I watched my boy @spartanlife32 #TKO a former world champ and then I watched Felony Charles Bennett punch @ColbyCovMMA in his face haha #NotABadNight

— Platinum Mike Perry (@PlatinumPerry) April 27, 2018
.@ColbyCovMMA vs Crazy horse in local bar fight…. only in #Sofla

#ufc pic.twitter.com/pQ7C6pSaXn

— Nik Lentz (@NikLentz) April 27, 2018
Hearing Colby was seen leaving in a neck brace after this vicious assault by Charles Bennett. Criminal charges pending. pic.twitter.com/UmE9b6Dzgu

— caposa (@Grabaka_Hitman) April 27, 2018