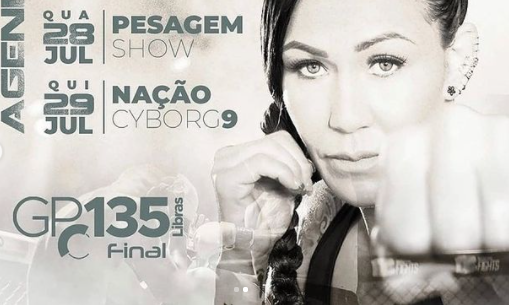 Do not miss today Cris Cyborg's event NCF 'Nacao Cyborg Fights' is going to be taking place in the South of Brazil. Nacão Cyborg Fights is  the #1 mixed combat sporting event in the south of Brazil featuring Pro/Am mma, Muay Thai, k1, boxing, BJJ, submission grappling and more. Tomorrow the event will start at 3pm here in  the U.S and is going to be taking place 19pm in Brazilian time, 4 hours ahead of the united states. The event is owned by Cris Cyborg and her brother Rafael Venancio Justino.
Cris Cyborg is a world MMA champion, today fighting in Bellator. Cris Cyborg has 4 different belts including  a Bellator, UFC, Invicta and Strikeforce belt.  Cyborg was born in Curitba, Brazil and now lives in Huntington Beach, California. Cris started to get involved in sports when she was around 15, she started with Handball and one day a MMA coach from a well known gym in Brazil named Chute Boxe saw her training  and asked her to participate in one of the practices, she did and ended up falling in love with it. Cris Cyborg has a passion for animals and is the owner of Two dogs, a Bengal cat, a mini pig,  a Maine Coon and multiple Fish & Birds at Cyborg's zoo. 
Nacao Cyborg's weigh ins took place yesterday  at 15 pm here in the United states and 19 pm in Brazil. In this event we are going to be having multiple different fighters from different regions and backgrounds from Brazil and other countries. If you are a fighter and you want to fight at NCF make sure to go to ncfights.com and put your information and everything needed for you to be part of the event and if you want to sponsor the event you can also put your information at the website and be part of the Cyborg Nation family !
During this event we are also going to be having The Grand Prix for the 135 division, which mans that whoever wins will go to Bellator so make sure that yuo stay tuned!
The fights are going on right now, make sure to go watch them !!