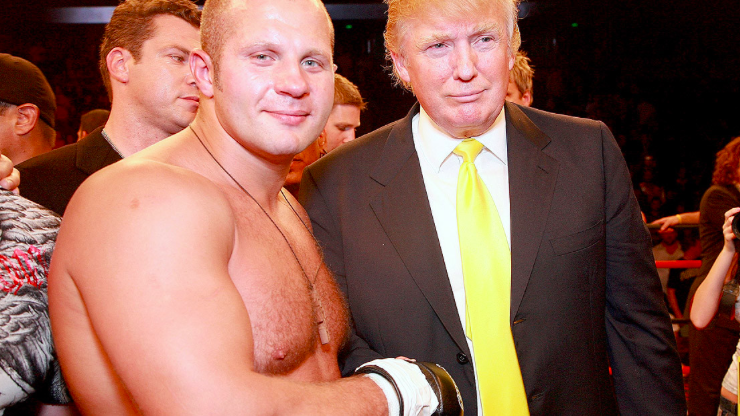 Fedor Emelianenko went 10 years before suffering his first loss if you take out the doctor stoppage he had against Tsuyoshi Kosaka in 2000, he didn't lose again until he face Fabricio Werdum in 2010.  During that time Fedor faced a who's who of talent including former UFC Champions Andrei Arlovski, Tim Sylvia, Mark Coleman, Kevin Randleman and Antonio Rodrigo Noguiera.
While Fedor lost 3 consecutive fights to Werdum, Bigfoot Silva, and Dan Henderson when he first came to the USA, he was able to put together another impressive 5 fight win streak with victories over jeff Monson, Satoshi Ishii, and Pedro Rizzo before a setback to Matt Mitrione which saw both fighters rock one another in the opening exchanges.
Rogan speaking on the Fight Companion Podcast in the lead to the Frank Mir fight casted a bit of doubt for fans as he implied that all the fighters competing in PRIDE during the Era of Fedor's reign were on PED, Steroid supplements.  While Fedor has never been found to have a PED in his system, in light of Russia's Olympic History it does position the question.
"They need to let him fight in Japan again. Get him on the right mixture. I'm super suspicious about all those old fights now, though. I'm super suspicious. I mean steroids. I mean performance enhancing drugs. I mean we're looking at a different human. That's what I'm thinking.[Bellator] does some checking; they do have state athletic commissions. Japan was encouraging. Who knows who was doing what and who wasn't doing what, but when you talk to the guys who were over there, like Enson Inoue, and he'll tell you they had it in capital letters in the contract — WE WILL NOT TEST YOU FOR STEROIDS…Whatever everybody was on back then, Fedor was still beating everybody's ass."