MMA's only Grand Slam Champion Cris Cyborg will be returning to her hometown of Curitiba Brazil
Sunday September 25th, 2022 MMA's only Grand Slam Champion Cris Cyborg will be returning to her hometown of Curitiba Brazil as she looks to step inside the professional Boxing ring for the first time when she faces durable female boxing pioneer Simone Silva in her Boxing debut at the Arena de Baixada.
The only Grand Slam Champion in the sport of MMA and the current Bellator MMA Featherweight Champion Cris Cyborg will be facing an opponent with almost 300 rounds of professional boxing experience, and nearly 40 professional fights against some of the World's top names in female boxing including; Amanda Serrano, Tiara Brown, Shelley Vincent, Ikram Kerwat, Hyun Mi Choi, Jessica Camara, and Maricela Cornejo with 4 different World Title fights on her resume. The bout is scheduled for 8 rounds of action at the 154lbs Super Welterweight FMS Female Boxing Championship.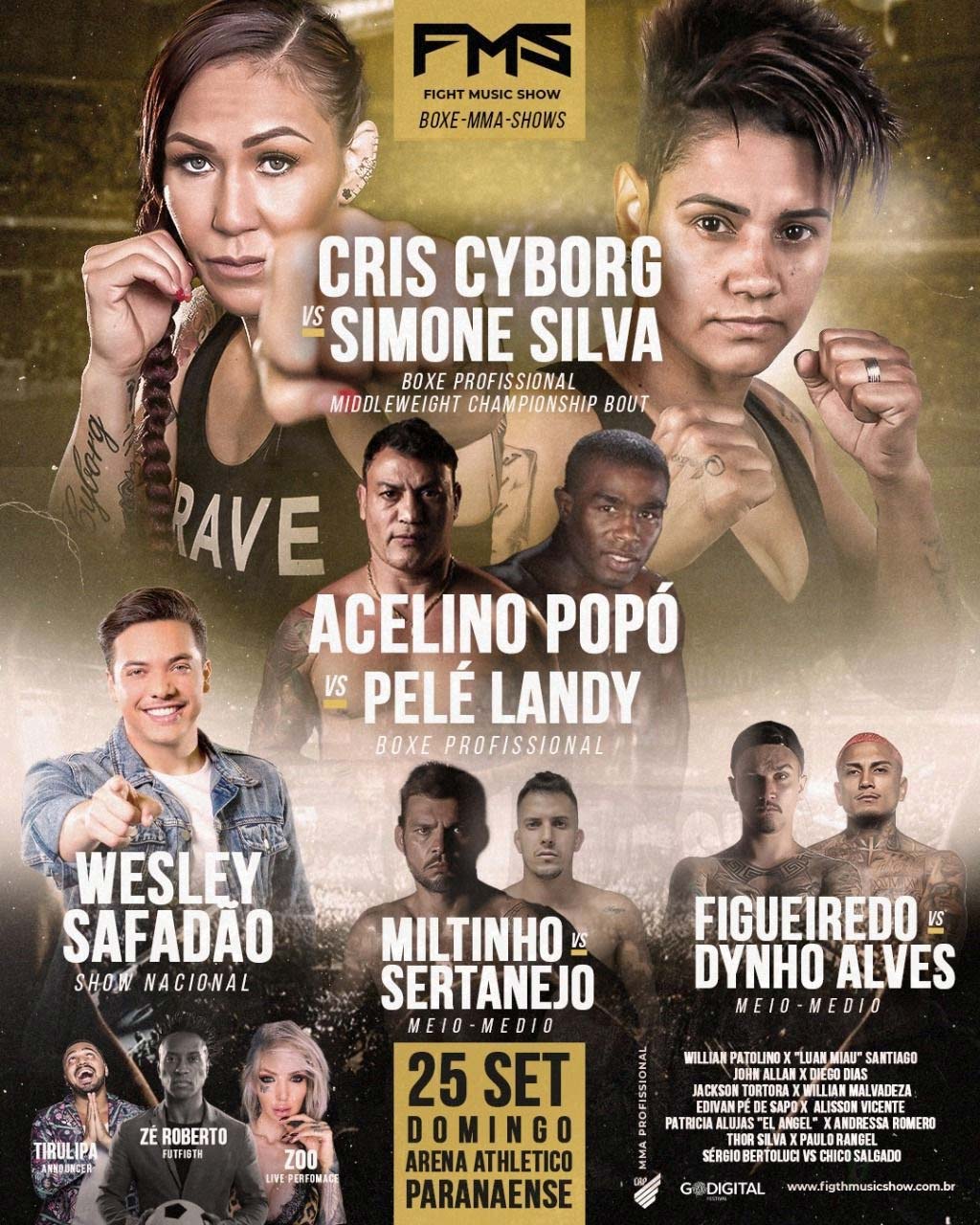 Tickets Range from $12, $20, $40, and $300 will get you ringside.
Cris Cyborg had this to say about fighting in her hometown of Curitiba Brazil, "I am excited to return home and have an opportunity to fight in front of my friends and family.  Curitiba is one the cleanest, most modern, and safest cities in Brazil and I will make the perfect first experience to my country of Brazil for any fans who are interested in traveling to the country for the week of the fight.  Curitiba is my city and everyone from Cyborg Nation will be welcome."
Full FMS 2 Fight card
Main Event: Acelino Freitas Vs Jose Pele Landi (Boxing)
Co main: Cris Cyborg Vs Simone Silva
Milto Viera Vs Felipe Arantes (Rematch UFC bout)
William Macario Vs Luan Santiago
John Allan Vs Diego Dias
Edivan Santos Vs Alison Vincent
Patricia Alujas Vs Adressa Romero
Thor Silva (Wanderlia Silva Son)  Vs Paulo Rangel
Sergio Bertoluci Vs Chico Salgado
If you are on #CyborgNation ahead of the MMA Grand Slam Champions first professional boxing fight, make sure you show your support to all your friends and family by wearing the official Cyborg Nation Fan Supporter shirt while you are watching her fight Sept. 25th available only in the Cyborg Nation Fan Club Store.
For fans unable to travel to Brazil we are working an international streaming option and will have those details announced soon.