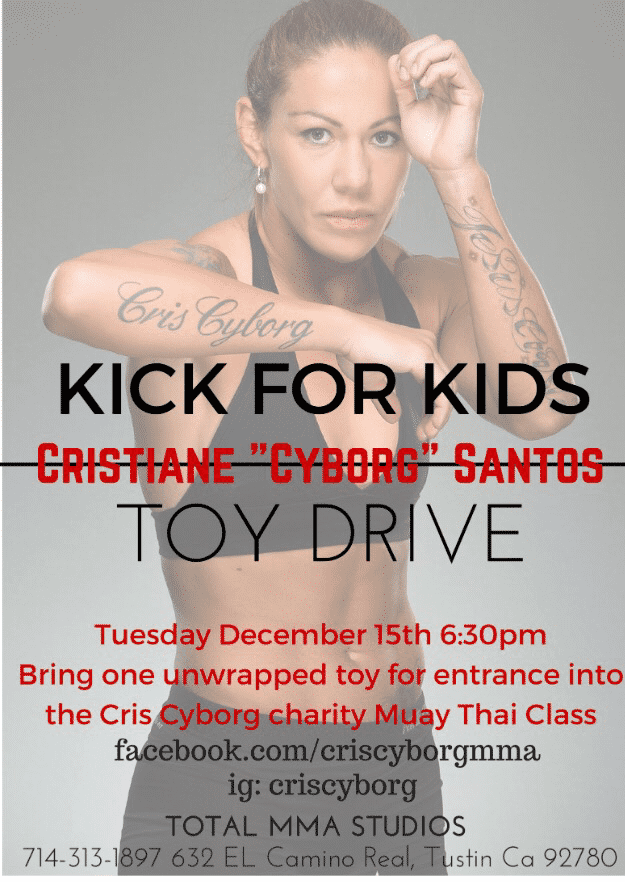 Christmas is an amazing time for friends and family, but sadly it can also be a reminder to some how hard times can be.
I am currently training for my Invicta FC title defense Jan.16th in Orange County, but was given an opportunity to work with my friends at Total MMA Studios in Tustin California to help provide for those less fortunate this Holiday season.
If you are unable to attend **please share this post** on your Twitter and Facebook to help get the word out for an amazing outreach opportunity!
This will be a great time for everyone who attends, and I'm looking forward to meeting everyone personally!
God is good!
Total MMA Studios is located at 632 El Camino Real, Tustin CA 92780
For Questions about the Kicks for Kids event please call +1-714-368-3458
Christmas é um tempo maravilhoso para amigos e família , mas infelizmente ele também pode ser um lembrete para alguns quão duro vezes pode ser.
Atualmente, estou treinando para a minha Invicta FC defesa do título Jan.16th em Orange County , mas foi dada a oportunidade de trabalhar com meus amigos no Total de MMA Studios em Tustin Califórnia para ajudar a fornecer para aqueles menos afortunados nesta temporada de férias .
Se você não puder comparecer ** por favor, compartilhe este post ** em seu Twitter e Facebook para ajudar a passar a palavra para uma oportunidade de divulgação incrível!
Este será um grande momento para todos que atende , e eu estou ansioso para conhecer todos pessoalmente !
Deus é bom!