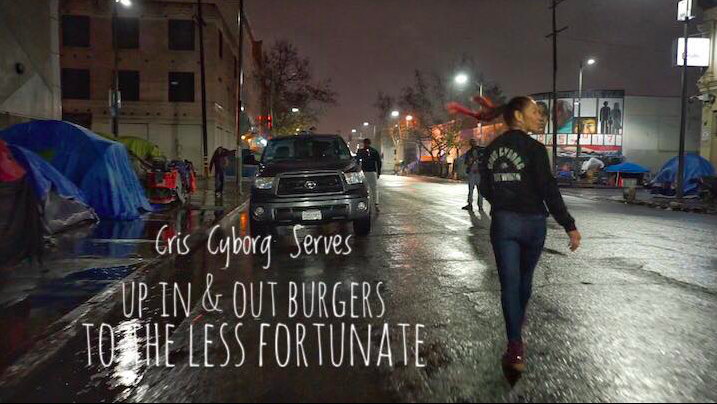 Cris Cyborg is always active in the community, and besides her PinkBelt Fitness often participates in different non profit or service based projects for neighborhood enrichment.  A devout Christian, the opportunity at fellowship and community activism is a cause that motivates Cris Cyborg wether she is in her home country of Brazil or the USA.
To Celebrate her most recent win at UFC 222, Cris Cyborg and the troops headed to In-N-Out burgers a purchased 222 cheeseburgers.  The order was so large that Cyborg's team was sent to two different locations, the first to purchase 120 cheeseburgers, and the second for the remaining 102 cheeseburgers equally the same number of the UFC PPV event Cyborg most recently participated in.
With 222 Cheeseburgers Team Cyborg ignored the rain and loaded them into the back of a pickup truck before heading down to the infamous Skid Row of Los Angeles California.  Located east of Main Street, South of Third street, west of Almaeda, and North of Seventh Street Skid row is one of the largest stable populations of homeless people with an estimate 5,000-8,000 individuals sleeping on the streets within this district.
Cyborg when asked about the experience said this, "I love being able to come out and show the people that there are individuals who still love them, something simple like a cheeseburger isn't going to change their lives, but for that one moment they know someone cares about them and they are special to me."
Cris is active with her community service.  In Brazil she is the adoptive mother of the Hospital Erasto Gaertner children's hospital in Curitiba, and for her fight against Holly Holm she ran a very successful bear for the kids out reach that was a huge success.
Cyborg who won UFC 222 in the first round VIA TKO against Yana Kunitskaya has been very vocal about a July showdown with UFC Bantamweight Champion Amanda Nunes who has been trying to secure the SUPERFIGHT following Cyborg's win over Holly Holm last Dec.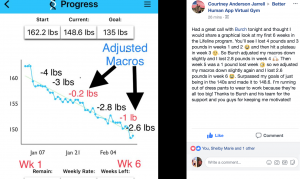 If you are looking to start off the summer right, get started with my functional meal and diet plans.  Working together with the creators of the Better Human App we have developed an easy and convenient shopping list and meal plan that will help you reach your micro and macro intake needs.  To get your hands on the plans, click here!