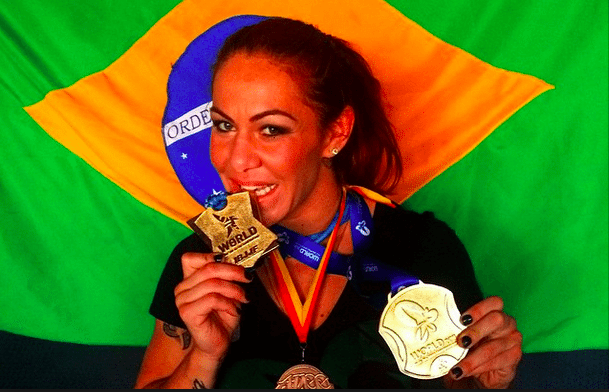 Tomorrow night 3x Female MMA World Champion Cris Cyborg will be home in Brazil to support the third edition of Nação Cyborg 3. Cyborg who will be facing Amanda Nunes Dec. 29th in Las Vegas Nevada at UFC 232 has flown to the country to work with Rafael Justino Promoting the fights for the first time in their hometown of Curitiba Brazil, the fighters and fight fans will fill the Espaço O Alvo Church The CHURCH TARGET ( John Bley Street Son, 191, Pinheirinho – Curitiba ) for a night of combat sports action featuring many of the top talent that the country of Brazil has to offer.
Professional MMA Bouts
70 kg: Everton Roberts (Thai Brazil) vs. Vargas Diego (CM System)
In the main event Eerton from Thai Brazil team enters this bout with a 5-3 record,  the Shooto veteran has notable wins against MMA prospects Edivaldo Siqueira and Elder Lara and after back-to-back losses got back into the win column at MFC 3 picking up a decision win over Igor Soares. Diego Vargas is a 14 fight professional in MMA and currently the #188th ranked light heavyweight in Brazil according to Tapology.Com after back-to-back wins over Luiz Fernando da Silva Costa and Claudiere Freitas.
61 kg Melissa Gatto (Bronx Team) vs. Karol Rose (Prvt)
The Co Main Event will feature top 25 ranked Brazilian Female Bantamweight and undefeated prospect Melissa Gatto as she looks to keep her 5-0-2 record in tact against the #11 ranked female bantamweight in Brazil Karolline Rosa. Rosa two defeats have come against top opposition as she lost to current Ultimate Fighter contestant Larissa Pacheco back in March and her only other defeat came via decision against DWTC series winner Gisele Moreira. With notable wins over Invicta FC veteran Mariana Morais and Nação Cyborg veteran Sidy Rocha, Rosa will be looking to use a win over Melissa Gatto to prove she's to be the next female Brazilian to break into the international fight scene.
66 Kg: Leandro "Light" Brito "(Institute Good Fight) vs. Allan William" Nutella "(Area VIP Fight)
55 kg: Clades "storm" Zimmermann (Strength Thai) vs. Aline Pires (CM System)
52 kg Maria Ribeiro (CM System) vs. Daniela "Fenix" Silva (PRVT)
PROFESSIONAL KICKBOXING
70 kg Guilherme Silva (MM Fight Team) vs. Norberto Kania (Black Diamond)
57 kg: Dayane Cordova (Immortal Fight Team) vs. Cyndi Alves (Rangel Farias / Double Attack)
SUBMISSION
+100 kg André Rudolph (Zenith) vs. Alex Owl (Checkmate)
Amateur MMA
63 kg: Fabio "Ben 10" (Noguchi) vs. Gabriel Santos (CF Team)
48 kg Sarah Barwick (VIP area Fight) vs Gabriela "Gabs" (ABMT)
57 Kg: Felipe Orpheus Institute (Good Fight) vs. William Gois (Thai Brazil)
66 kg Felipe Piton (VIP area Fight) vs Jeanderson "Mustache" Santos (CM System)
Amateur Kickboxing
65 Kg: Jonathan "China Crazy" (Mantra) vs. Erivelton Wolf (Santafe Team)
61 kg Maria Paige (MM Fight Team) vs. Maria Victoria (Chute Boxe)
66 kg Guilherme land (KO group) vs. Erick Maciel (LFTeam)
54 kg: Leticia Kauany (Strength Thai) vs. Miranda thalita (CF Team)
55 kg Vitor Gabriel (Group KO) vs. Matheus Rodrigues (Evolution Thai)
48 kg Rafaela Moraes (New Generation) vs. Kinberly Oak (CF Team)
68 kg: Roger Martin (Saribas Fight) vs Raphael Ferraz (Santafe Team)
75 kg: Evander birth (Thai Club Team) vs. Kauey Shot (The Rock)
65 kg: Cristiano Greisman (Ribas Fight Sa) vs. Luiz Henrique (New Generation)
55 Kg: Carlos "clockwork" (Sport Thai) vs. Gabriel Rodrigues (N1 Team Brazil)