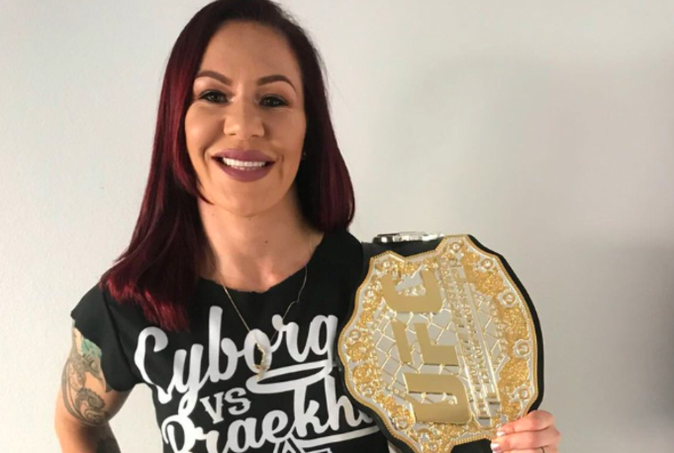 Yesterday was the 2 year anniversary of the UFC debut of Cris Cyborg.  Cyborg originally from Curitiba Brazil had her first MMA fight in 2005 against Brazilian Top Team BJJ Black Belt Erica Paes losing the bout when she injured her elbow landing on the mat after a jumping stop to the face of her opponent.  After that setback Cyborg won 4 consecutive fights before coming to fight Shayna Baszler in the USA for the Elite XC promotion.
Cyborg went on to defeat Shayna Baszlerand established herself as a DRAW on television with the Elite XC promotion before signing with STRIKEFORCE where she eventually won the first recognized female world championship of the world for the Featherweight division by defeating Gina Carano, and setting TV ratings records in the process with the SHOWTIME broadcasted bout.
When the UFC declined to introduce Cyborg's division when they bought Strikeforce, Cyborg brought her talents to the all women's INVICTA FC promotion- the same promotion where champions Amanda Nunes, Rose Namajunas, Carla Esparza, and others competed for prior to their UFC contracts. Defeating Marloes Coenen at INVICTA FC 6, Cyborg became a 2x World Champion in the Featherweight division.
Remaining unbeaten, the UFC offered Cyborg a contract, however she continued to defend her world title within the Invicta FC promotion beating Charmaine Tweet, Faith Van Duin, and Daria Ibragimova as fights under the ZUFFA company despite not being able to compete in the UFC because of no 145lbs weight class.  Eventually on May 14th 2016 Cyborg was given an opportunity to make her long awaited UFC debut, although not in her weight class of Featherweight.
Competing in front of a home crowd of more than 50,000 fans, Cyborg participated in a catchweight 140lbs fight against Leslie Smith and was victories.  Unable to defend her Invicta FC belt, Cyborg did one more catchweight bout against Lina Lansburg at 140lbs before seeing the UFC introduce her weight class with at tile fight at UFC 208 between Germaine De Randamie and Holly Holm.
Holm who lost a 5 round title fight to Germaine De Randamie, eventually went on to face Cris Cyborg at UFC 219 losing decision, not nearly as close as the scorecards, in a fight of the night effort.  Cyborg who won her 3rd world title inside the Featherweight division, never got an opportunity to face GDR who subsequently vacated her championship after winning it–faced Tonya Evinger for that distinction at UFC 214 instead.
With news that The Ultimate Fighter Season 28 is going to feature tryouts in Las Vegas on Tuesday May 22nd inside the Palace Statin Hotel in Las Vegas, an official announcement was made that all women who weigh at least 145lbs and are between the ages of 21-34 with at least 3 professional fights are eligible to attend the tryouts for the Ultimate Fighter Season 28 which will begin filming July 2018 and premier later in the year on FS1.
Cyborg who is not expected to be a coach on the upcoming season made the following post on Twitter; inviting all women who are going to be attending the tryouts in Las Vegas next week to attend a special dinner.  While the time and location has not been made public, fans on Cyborg Nation know that whenever Cris is in Las Vegas she usually finds a way to visit the PROTEIN HOUSE.
Ladies if you're going to be in Vegas next week for the @UltimateFighter tryouts I am planning a dinner Tuesday night and would love to invite you! [email protected]

— Cris Cyborg #CyborgNation (@criscyborg) May 15, 2018
When asked about the Ultimate Fighter introducing a Women's Featherweight division Cyborg had this to say, "I think it is amazing. There are women in the weight class who deserve to be showcased.  The division has many strong, athletic, and exciting athletes who are going to make for competitive fights in what I think will eventually be the deepest division in WMMA."