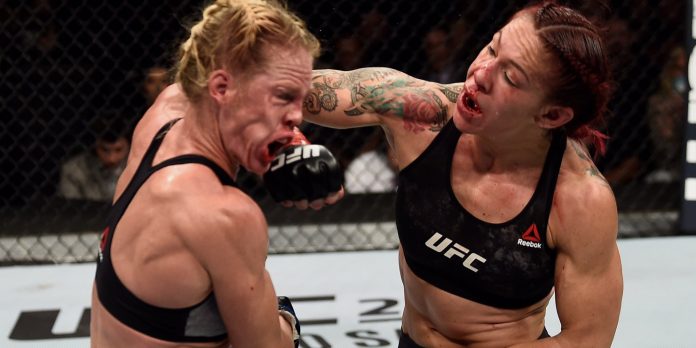 Cris Cyborg and Holly Holm broke another record following their 219 UFC Main Event in Las Vegas.  When comparing the total number of samples that have been provided to USADA over the course of the program in relationship with the night of the fight, the #1 most tested fight of all time is HOLLY HOLM Vs. CRIS CYBORG.
In the lead up to the fight, both Cyborg and Holm were tested 3 times by USADA, and since the start of the program both athletes have combined for an incredible 60 samples being collected by the two athletes, during the 30 months since the UFC has adopted the program.  Cyborg who prior to the fight had been tested 28 times, while Holm has been subject to 32 tests during the 30 months leading up to the bout, making Cyborg Vs. Holm the MOST TESTED USADA FIGHT IN UFC HISTORY.
According to the official USADA wesbsite, Cyborg was tested 15 times in 2017 passing each exam.  In 2016 she was tested 11 times, and despite the need to apply for a TUE, was clean in each exam.  In fact, in 2015 registering with USADA despite still competing with the INVICTA FC promotion, Cris Cyborg became the first MMA Athlete to complete 1 year of USADA testing BEFORE entering into the UFC.
Which means since USADA has begun testing UFC fighters, Cyborg has passed 28-of-28 times!!
When discussing her one failed test in from 7 years ago, UFC Champion Cris Cyborg had this to say,
"I did a mistake in my career", referring to the 2011 incident that cost her a one-year suspension and a $2,500 fine. "I did, you know. I paid for that. And then I wanted to prove everything [so] I'm the first fighter to at least sign with USADA before the UFC to prove I'm actually clean."
Cyborg who went on to defeat Holly Holm with a dominate 5 round performance has not lost an MMA fight in over 12 years, and is the current #1 pound for pound female fighter in Women's Mixed Martial Arts according to ESPN. 
Fans of Cris Cyborg are anxious for her next fight. Will it be a Superfight showdown with 135lbs world champion Amanda Nunes? Or will Cyborg face former Invicta FC champion and #1 ranked Featherweight contender Megan Anderson next?
To see a full breakdown of the Most tested UFC fights by USADA check out mma-today.com