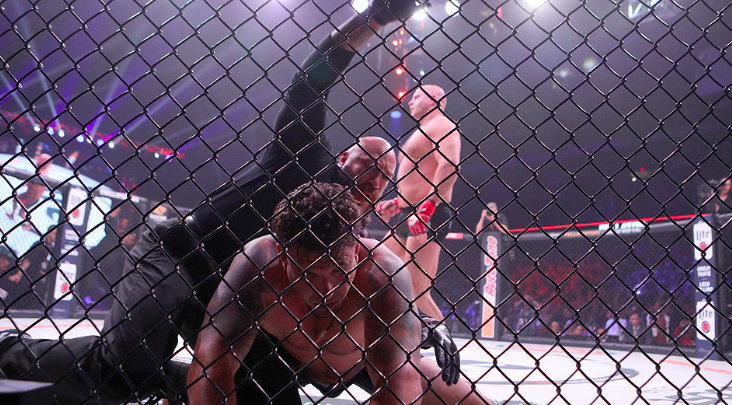 And just like that Fedor reminded everyone why he spent a decade beating all the top fighters in the world while fighting in Japan for PRIDE FC. Fedor who was rocked early by Frank Mir took the fight into the clench after working his way back up from the fence only to hit Mir with a perfectly timed hip toss from the overlook clench position.
Mir who was able to scramble back to his feet then turned the fight into a shotgun shootout inside a telephone booth and was stunned by a looping uppercut from a retreating and attacking Fedor. The punch came at 48 seconds of the first round and Mir was facedown on the Mat.
For Fedor this fight was a much needed win. He will now move on to face Chael Sonnen in the next round of the Bellator Heavyweight Tournament. Sonnen who is a very talented wrestler does not have the same striking pedigree of Mir and will be a much smaller Heavyweight in comparison.
Fedor KOs Mir in less than a minute.

He'll meet Chael Sonnen next.

— Ariel Helwani (@arielhelwani) April 29, 2018
In my 33 years as a martial arts promoter, I've never had a fighter give me his gloves as a gift. What an honor from the GOAT. #Fedor #Bellator198 pic.twitter.com/1T8pqkwrcn

— Scott Coker (@ScottCoker) April 29, 2018
Fedor was at one time the untouchable level of perfection for all MMA fighters in his prime, destroying all the best heavyweights for a full decade. #Respect

— Pat Miletich (@patmiletich) April 29, 2018
I'm just going to pretend it's not 2018 right now. #Bellator198

— Mike Jackson, Esq. (@TheTruthJackson) April 29, 2018
Mir looks so pompous in this photo. #Bellaltor198 pic.twitter.com/msNSLU5H13

— Angela Hill (@AngieOverkill) April 29, 2018
I wanna grow old like Fedor. 41 years old and still knocking people out! #bellator198

— Patricky Freire (@PatrickyPitbull) April 29, 2018
0 expressions given . FEDOR

— Derek Brunson (@DerekBrunson) April 29, 2018
Fedor. Oh boy. #bellator

— Jon Fitch (@jonfitchdotnet) April 29, 2018