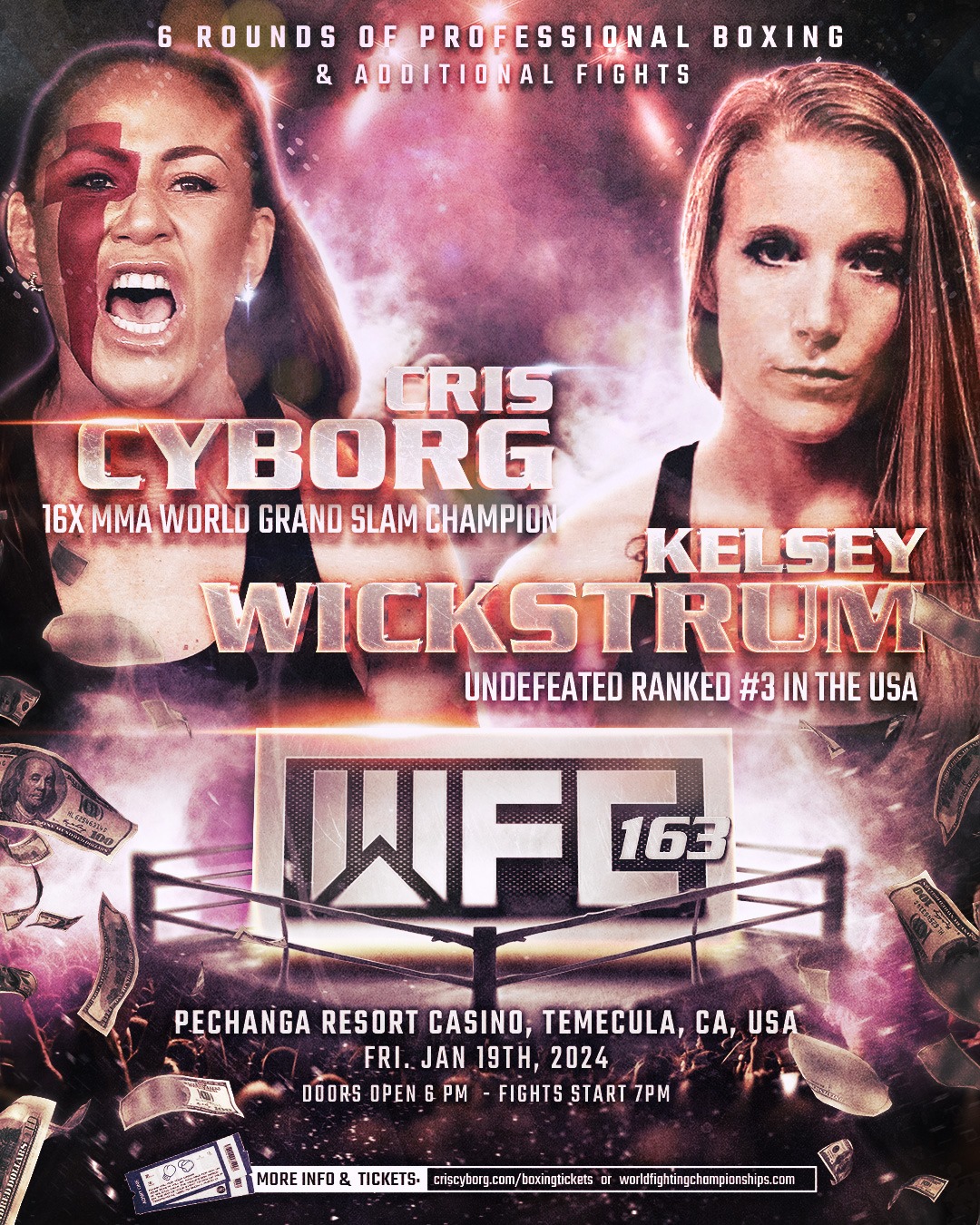 Cris Cyborg returns to Boxing Jan. 19th against Kelsey Wickstrum the #3 ranked Boxer in the USA
16x MMA Grand Slam Champion and current Bellator MMA title holder Cris Cyborg will be making her return to Professional Boxing just three short months after successfully defending her Bellator MMA Championship belt against Cat Zingano at Bellator 300.
Cris Cyborg will challenge Kelsey Wickstrum as the main event of WFC 163 on January 19th, 2024 at the Pechanga Resorts Casino in Temecula California. Wickstrum is currently ranked #3 in the USA for Women's Professional Boxing and is undefeated scoring an impressive TKO victory against Sudana Moore in her last performance.The bout will be contested at 154lbs and is scheduled for 6 rounds of 2 minutes.
Cyborg made her professional boxing debut with an 8 round victory over South Brazil National Boxing Champion Simone Silva in September of 2022 to capture the FMS women's professional belt in her hometown of Curitiba Brazil and followed up that boxing performance with a Co Main event victory over Gabrielle Holloway on an event headlined by Terence Crawford.
Speaking of her return to the sport of Boxing, Cris Cyborg had this to say:
Kelsey is two years younger than me, started her professional fighting career before me, and will be a good test for me inside the boxing ring. I am still learning the sport of Boxing. I am not looking to take any shortcuts in my path to a World Title in Boxing and this is the next step. When I finally get that opportunity at a Boxing World Title I will be ready.
World Fighting Championships is a combat sports company that promotes MMA, Boxing, and Kickboxing events and is dedicated to giving the best combat sports athletes in the world a place to showcase their talents.WFC has hosted over 125 events in 25 different markets throughout the US. More fights for WFC 163 Temecula California will be announced soon.
Doors open at 6pm. First fight starts at 7pm.